PS Welcome - YouTube
All about PriceScope
Fri, 19 Aug 2011
33.58 carat Peridot Pendant by Richard Krementz Gemstones
H1:
33.58 carat Peridot Pendant by Richard Krementz Gemstones
By
Erika W.
Happy Birthday August Pricescopers!
This spectacular peridot pendant was one of highlights at the Richard Krementz booth at JCK Luxury 2011. The 33.58 carat peridot is set in 18k yellow gold surrounded by 9.71 carats total of round, marquise and pear cut diamonds set in platinum. The pendant won an Honorable Mention at the 2010 AGTA Spectrum Awards in the Bridal Wear category.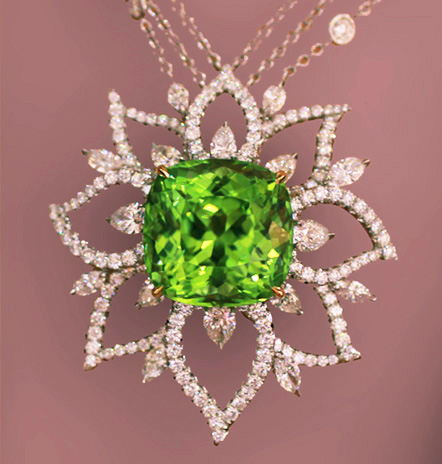 Peridot and diamond pendant designed by Maria Canale
Related Topics:

Jewel of the Week - Spring Green Peridot Ring

help ~ feedback re: peridot

My peridot collection

Pink and Green - Jewelry for Spring