By Erika W.


Happy Birthday July Pricescopers!
What better way to celebrate July birthdays than with a 27.67 carat Burmese ruby?
Last April, Sotheby's Hong Kong auctioned a rare 27.67 carat ruby and diamond ring (shown below) by Bulgari. The sugarloaf cabochon ruby ring sold for $2.4 million, the third top lot sold at Sotheby's Magnificent Jewels and Jadeite Spring 2011 Sale. "Burma is well-known for its rubies of intense fiery colour and the present one is the largest gem-quality unheated Burmese ruby from the legendary mines of Mogok to appear at auction in recent years. Rubies exceeding 10 carats without thermal
enhancement, such as the present fiery gem, are of extreme rarity in the market and are literally irreplaceable as the
mines no longer produce rubies of such a significant size and quality." – Sotheby's.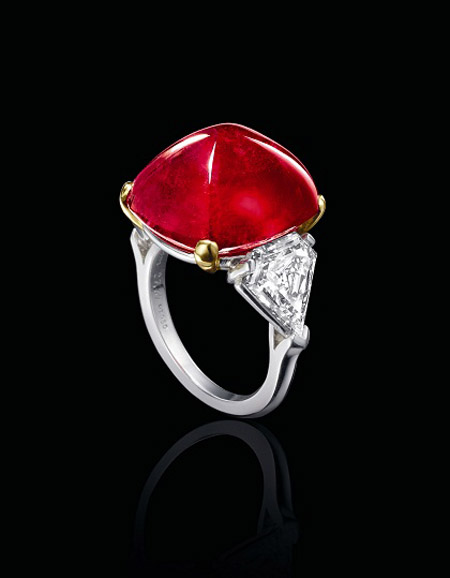 Photo: Sotheby's
Selling for $2.4 million, the 27.67 carat ruby ring was the third highest lot sold at Sotheby's "Red Sale."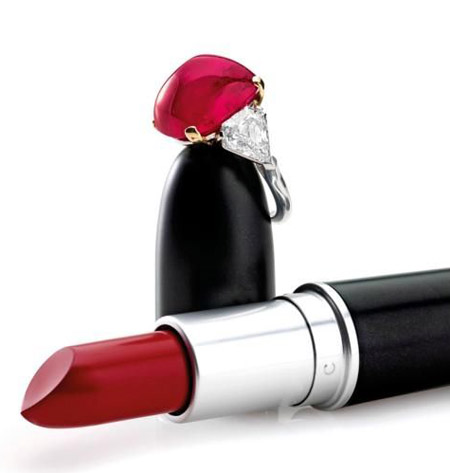 Photo: Sotheby's
Related Topics:
Help Me Find A Red Stone: A Red Spinel or A Ruby!
Lead Glass Ruby – The Nightmare that Keeps on Giving
For in-depth ruby information please visit:
Seeing Red – A Guide to Ruby Connoisseurship
by Richard W. Hughes
Ruby; Burma Days; Rangoon by Richard W. Wise, G.G.
Palagems.com Ruby Buying Guide by Richard W. Hughes
Share and discuss ruby jewelry on the Forum