By Erika W.
Highlights from Sotheby's Hong Kong Spring 2011 Preview
Sotheby's Magnificent Jewels and Jadeite Spring 2011 Sale will be held at the Hong Kong Convention and Exhibition Centre on April 6. The sale will feature an impressive selection of fine jadeite, Burmese ruby, and significant diamonds and gemstones. Highlights from the preview include a pair of Harry Winston D color IF clarity oval and pear shaped diamond pendant earrings weighing over 36 carats. An impressive jadeite bead necklace and a 27.67 carat Burmese ruby and diamond ring are among many outstanding colored gemstone jewelry pieces to be auctioned.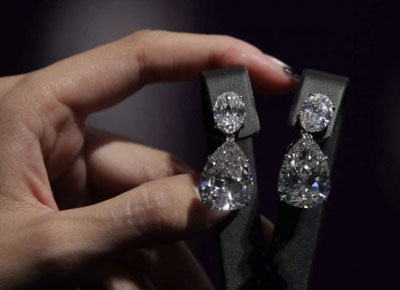 Photo: EPA/YM YIK
A model holds Harry Winston diamond pendant earrings weighing 36.48 carats. Both the ovals and pear shaped diamonds are graded D color and Internally Flawless. The pair is expected to fetch between $4.1-4.8 million.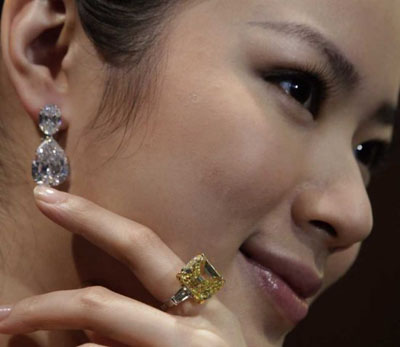 Photo: EPA/YM YIK
A model wears the Harry Winston pendant earrings with a 25.26 carat fancy vivid yellow diamond ring. The stunning yellow diamond ring has a selling estimate of $1.7-2 million.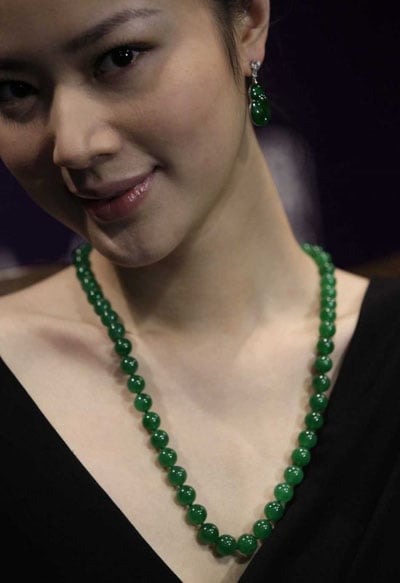 Photo: EPA/YM YIK
Jadeite at its finest, this stunning necklace is expected to fetch $3.8-4.5 million. 53 imperial green jadeite beads graduate from approximately 10-12mm. The model wears the necklace with jadeite earrings, which are expected to sell for an estimated $320,000-$380,000.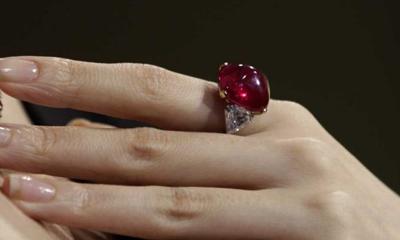 Photo: EPA/YM YIK
A 27.67 carat Burmese ruby is set with diamonds in a stunning ring by Bulgari. The outstanding (unheated) ruby is expected to fetch $1.5-2.5 million. The lack of treatment, unusual size and most coveted color, make this one of the most desirable rubies to date.
Related Topics:

10.09 Carat Fancy Vivid Purple-Pink Diamond at Christie's
Harry Winston and the 24.78 Carat Pink Diamond
Meet the Cora Sun-Drop, a 110 Carat Yellow Diamond
Share and Discuss Magnificent Jewels