By Erika W.
Update: Sold today November 16, 2010 for $46 million to Graff – New name, "The Graff Pink"
Click here to Discuss on the Forum
Rare Pink Diamond to be Auctioned this November
"During my 35-year career at Sotheby's I have had the opportunity to
examine many magnificent and rare gemstones and, put simply, this stone is one of the most desirable diamonds I have ever
seen." – David Bennett, Chairman, Europe and the Middle East,
Sotheby's International Jewellery Department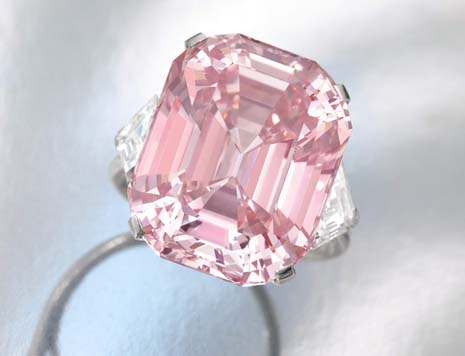 24.78 carat Fancy Intense Pink Diamond
Photo by Sotheby's via AP
msnbc.com

The rare 24.78 carat fancy intense pink diamond was last sold by Harry Winston sixty years ago and has been in private collection until now. The ring will be auctioned next month at Sotheby's Geneva-with selling estimates of $28-39 million.
Catch a glimpse of the fire displayed by the stone in this video.
The emerald cut pink diamond has notable rounded corners, which complement the soft pink hue. The stone has been graded VVS2 by GIA because of a small flaw, which is most likely due to wear. Experts estimate the diamond could be repolished to achieve an Internally Flawless grade. The jewel is currently on a worldwide exhibition, which culminates at the Geneva auction on November 16.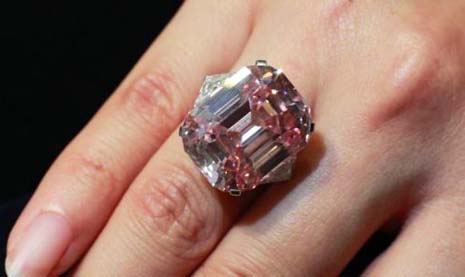 On the Hand
Photo: EPA

The pink has been classified as a very rare Type IIa diamond. Most Type IIa diamonds are colorless and represent less than 2% of diamonds worldwide.