By Erika W.
The Fancy Vivid Purple-Pink will be auctioned on April 12 at Christie's in New York
Another remarkable pink diamond will be auctioned at Christie's Magnificent Jewels in New York on April 12. The fancy vivid purple-pink cushion cut diamond weighs 10.09 carats and is set in a classic three-stone ring. With a selling estimate of $12-15 million, the diamond is among the ranks of four other fancy pinks, which have surpassed $1 million per carat at auction. Pink diamonds of vivid coloration are exceptionally rare, as about one in ten million mined will achieve the coveted "fancy vivid" grade.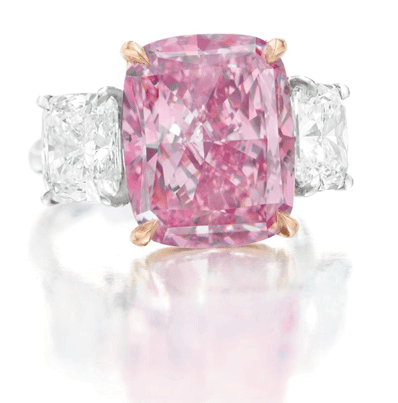 Photo: Christie's Images Ltd 2011
From artdaily.org: "Collector demand for large colored diamonds has never been stronger, especially where pink diamonds of this size and quality are concerned. Fewer than 10 percent of all pink diamonds mined weigh more than 0.20 carats, and even fewer exhibit the exceptional color saturation and brilliance of this exceptional gem. In all my years at Christie's, I have never seen such vivid color in a stone of this size." – Rahul Kadakia, Head of Jewelry at Christie's New York.
Unique Pink Diamonds Sold at Auction:

24.78 carat "The Graff Pink" – $46 million
5 carat "The Vivid Pink" – $10.8 million
6.89 carat Fancy Vivid Purple-Pink – $6.91 million
14.23 carat "The Perfect Pink" – $23.2 million
Share and Discuss Fancy Color Diamonds