By
Erika Winters
The Gemological Institute of America (GIA) is hosting its Jewelry Career Fair & Open House in Carlsbad, California on October 11, 2013. The event, which is free and open to the public, will feature hundreds of career opportunities in the gem and jewelry business in addition to panel discussions and one-on-one career coaching sessions.
Recruiters from gem and jewelry companies will be looking to hire professionals at all career stages. Job opportunities at the fair represent almost all sectors of the jewelry industry including retail, manufacturing, design, and marketing.
The Jewelry Career Fair marks the one time each year that GIA's scenic Carlsbad campus is open to the public. This year's attendees will also get to see Hollywood design legends Tony Duquette and Hutton Wilkinson's first all-jewelry exhibit, "More is More: Tony Duquette – Hutton Wilkinson Jewelry," which will debut the night before the fair.
Where: GIA World Headquarters – 5345 Armada Drive Carlsbad, CA 92008
When: Friday, October 11, 8:00 a.m. to 2:30 p.m.
To register and learn more, visit GIA Jewelry Career Fair.
Follow @GIANews and #JewelryJobs for updates.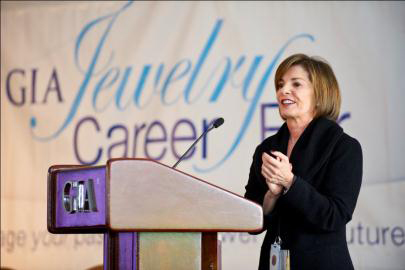 GIA's vice president and chief marketing officer Kathryn Kimmel opens the 2012 GIA Jewelry Career Fair. Image: GIA
More jewelry events and exhibitions:
"Genius of Nature" Jewelry Exhibition at the Aaron Faber Gallery in NYC

Fancy-Colored Diamond Exhibition at the Los Angeles Natural History Museum
The Metropolitan Museum of Art to Present "Jewels by JAR" this November