By
Erika Winters
Twenty-three U.S. jewelers and a U.S. refiner have joined together with artisanal mining communities in Peru to bring Fairmined gold to the U.S. market. The unique consortium, organized by non-profit organization Ethical Metalsmiths, is designed to support Fairmined certification standards by supplying traceable, artisanally-mined gold to U.S. jewelers. With gold from the AURELSA mine in Peru, jewelry pieces made by the pioneer jeweler group, listed below, will be featured in a new website that will launch in 2014.
Ethical Metalsmiths is working with precious metals refiner Hoover & Strong to help consumers understand the gold's origin.
"Hoover & Strong looks forward to our role in creating a 100% traceable pathway of artisanal mined gold from mine to market," said Torry Hoover of Hoover & Strong. "All precious metal products manufactured at Hoover & Strong are currently recycled from non-mined sources and fall under the HARMONY brand. But, as we look to the future for responsible sourcing alternatives, our support of traceable, responsible, artisanally mined gold may be the next evolutionary step in Hoover & Strong's Harmony brand!"
In addition to paying the Alliance for Responsible Mining's 10% Fairmined premium (a requirement for gold purchases from ARM's fully certified mines), participating jewelers will also help with educating consumers on the benefits and impact that Fairmined gold has on the miners' lives.
"The goal for responsible sourcing isn't just to offer materials that lessen the negative impact of our industry, but instead to create alternatives that can provide a positive impact in the communities and environments where these resources are extracted. Fairmined gold is a material with a story we want to share," said Anna Bario of Bario Neal, one of the participating jewelers.
The twenty-three participating jewelers include:
Kara | Daniel Jewelry, Bario-Neal, Sharón Chandally Pedrini, East Forth Street, Erin S. Daily, Jennifer Dewey Jewelry Designs, Devta Doolan, VK Designs, Susan Drews Watkins, Judy Geib Plus Alpha, J.K Haiman Designs, Rx Rox, Edward Lay, Jan Mandel, Chris & Danielle Merzatta, Rosanne Pugliese, Amy Schilling, Taber Studios, Martin Taber Designs, Irene Weinz, Brilliant Earth, Allison Ullmer, and McTeigue & McClelland
Jewelers, please visit the Ethical Sourcing Consortium of Jewelers to join and learn more.
Consumers, stay tuned for Ethical Metalsmiths' upcoming website launch to see Fairmined jewelry from the twenty-three participating jewelers.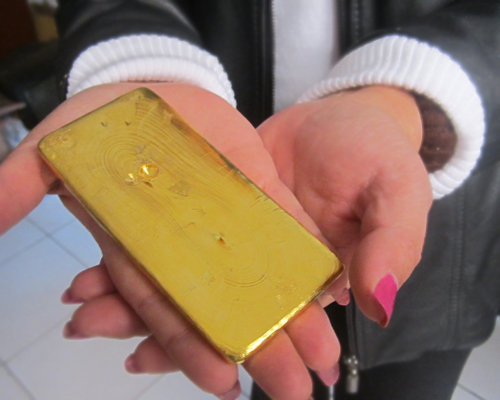 AURELSA Mining Cooperative president Rosa Reyes holds the cooperative's first gold bar ever exported directly to jewelers in the U.S. Image: Maria Eugenia Calderon of Red Social courtesy of Ethical Metalsmiths.
Related Topics:
Oh for the Love of Gold…The Gold Tree Infographic

In Full Bloom: Gold Pendants from McTeigue & McClelland