By
Erika Winters
As jewelry lovers, we often focus on the minutiae of our pieces, so it's especially interesting to pull back and examine the origins of the most widely used precious metal in fine jewelry, gold. If you've ever wondered about gold sources and usage, the Gold Tree infographic presents a fascinating summary. According to Trustable Gold, over half of the world's gold stocks are used in jewelry, and 2,500 tons are mined annually.

From: Trustable Gold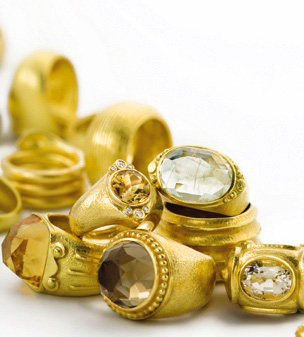 For the love of high karat gold jewelry…22k gold rings by Anat Gelbard.
Join our ongoing discussions on gold:
Do You Have a Favorite Gold Designer?


Show Me Your Ethnic/High Karat YG Pieces