A Comprehensive Guide on How to Buy an Engagement Ring
If you are reading this, congratulations! You have decided to propose. You are at a very significant moment in your life and now is the time to buy the Ring. Purchasing an engagement ring will be one of the larger purchases you'll make in your lifetime. An engagement ring is certainly a symbol of materialism and if you get a ring with a stone that is too small, you can be considered to be too cheap. If it's too big, you can be considered as being ostentatious and a 'show-off'. We encourage you to worry less about what other people say; worry about what your significant other would say and what you think is right. An engagement is a union between two people and this is one of the pieces of jewelry that she'll wear for the rest of her life as it's a symbol of love and eternal commitment.
Shopping for an engagement ring can become overwhelming with so many options to choose from and not knowing where to begin. So we've decided to put together a step-by-step comprehensive guide on How to Buy an Engagement Ring. This article will walk you through everything you need to know to Say "Yes" to the Ring. 
STEP 1:
SET A BUDGET
According to a marketing campaign created by the De Beers in the late 19th century, an engagement ring should cost at least two months' salary and over the years it has increased to three months' salary but it all comes down to you and the state of your finances. 
According to the online diamond retailer Ritani, the average American spends  $7,750 on an engagement ring (2020). The average carat size for an engagement ring is 1ct. Take a look at Our Diamond Search to view what diamonds are on the market from reputable vendors.
For example, the diamond is the most popular and priciest of the stones but your significant other may like colored stones or you may have a family heirloom that was passed down which you could incorporate into the design of the ring, therefore saving costs. 
STEP 2:
EXPECTATIONS 
Talk through the expectations of the engagement ring with your significant other or a close friend if you want to keep the details of the ring a surprise. Aim to get some clear expectations of what she'd like without giving too much away. Knowing her expectations will lead you into a clearer direction of what you should be shopping for. Bear in mind that the engagement ring is a symbol of love, the ring you purchase will magnify who she is and how you feel about her.  
If you are not entirely sure of what she wants, we suggest you choose a ring with a return policy so you can go back to the jeweler and get exactly what she wants. You do not have to propose with the final ring. We suggest that you buy the stone first and get a simple temporary setting for the proposal. Afterward, you can pick a new setting together – this helps you stay within your budget and ensure she gets the look she wants. 
STEP 3:
WHERE DO YOU BUY THE RING?
More and more people are shopping for engagement rings online as it is significantly cheaper than buying from a local jeweler or chain retailer. 
The pros of buying online are that you are in no pressure sale situation. You can shop around, really see what you want to buy, and compare with no added pressure. The cons are that you can't see the stone, you have to trust the brand or designer, therefore we advise you to buy from trusted sources such as Blue Nile, Whiteflash, James Allen, and Adiamor. 
STEP 4:
SHOPPING FOR THE RING 
When it comes to shopping for the Ring, we advise you to educate yourself. Start by learning about the Basics of Diamonds such as the 4 Cs known as the Cut, Clarity, Carat, and Color. Educating yourself will assist you with shopping for the best deal. 
The most important consideration when choosing an engagement ring is how it suits the finger, the distance between the knuckle and the webbing of her hand. So if she has a long finger, what would suit her is a long stone such as an emerald or a marquise cut, because she's got more length down the finger. Equally, if she has a shorter finger then you'll be considering perhaps a round brilliant or princess cut solitaire.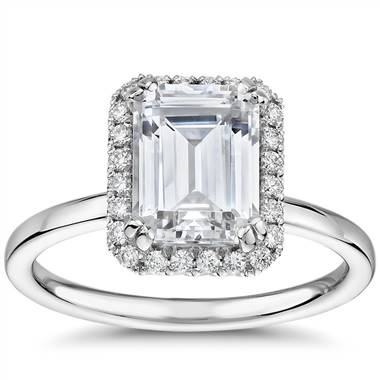 IMAGE I: Emerald-Cut Halo Diamond Engagement Ring in Platinum from Blue Nile.
IMAGE II: Marquise-Cut Halo Vintage Inspired 14K White Gold Diamond Engagement Ring from Gabriel & Co.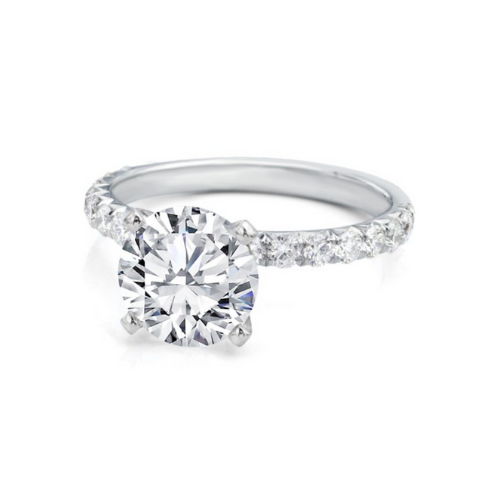 IMAGE III: Round Brilliant Diamond set in a French Cut Pave Platnium Setting from Adiamor.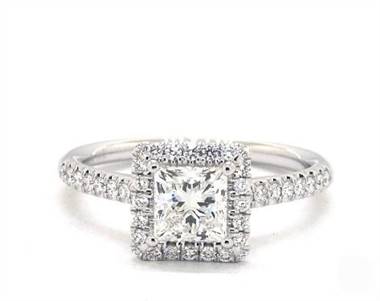 IMAGE IV: Princess-Halo Pave Engagement Ring in 18K White Gold from James Allen. 
The second most important consideration you're going to make is the gemstone that goes into the engagement ring. The hardness is the most important factor to consider. That is why a diamond is commonly selected because of its hardness. Equally a sapphire or a ruby are very hard stones as well and can be worn every day but that's not to say other gemstones can't be chosen for example an emerald. Emerald is a brittle and more soft stone and will need protection, so the setting will play a part in making sure that it can be worn every day. 
The next consideration you're going to be making is the cut or the shape of the stone. Shapes that are commonly sold are round brilliant cuts and princess cuts (a square-shaped stone) and emerald cut (a rectangle-shaped stone), a marquise, an oval cut, and a pear-cut stone. 
Lastly, the metal that you choose. You have a choice between white gold, yellow gold, platinum, rose gold, and silver. 
Stay away from silver, silver is a very soft metal and will not last. The mental that you would like the engagement ring to be in, is platinum, white gold, yellow gold, or rose gold. Platinum is often favored because it's a very hard mental and it will give you that longevity. 18k gold is commonly sold, anything higher than that is going to be too soft for a ring that's worn every day. If white gold is your style, choose 14k over 18k as 14k is stronger. 
We hope this blogpost has guided you through your engagement shopping experience. If you are still unsure of which engagement ring to opt for, Join our Online Forum and ask an expert for assistance.
Written by Bianca Mac Donald