2.50ct Old Mine Brilliant Cushion Cut with Tapered Baguettes side stones set in a Mark Turnowski Custom-Designed Setting.
TruLuv858 held out on us for a while, but finally posted this magnificent chunky cushion engagement ring on the Show Me the Bling! forum in the PriceScope community. When we were searching through PriceScope's archives, we stumbled upon this post and knew that it had to be this week's Throwback Thursday!
TruLuv858 lead her fiancé to Mark Turnowski at Engagement Rings Direct (now known as Brilliantly Engaged); She placed the fate of her ring in their hands and stepped out of the process, we all know how hard that is. Luckily, she had nothing to worry about because this ring came out absolutely stunning! These facets stole my heart and I hope that you enjoy the sight of this ring just as much as I did.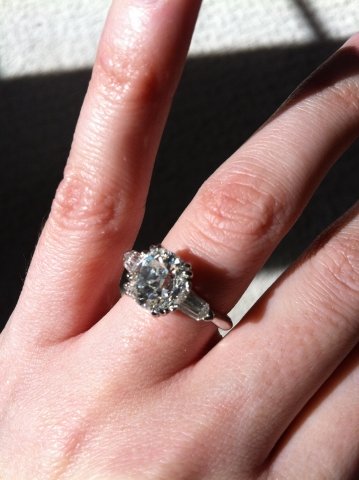 STATISTICS:
Cut: Old Mine Brilliant
Measurements: 8.67×7.53×5.16mm
Carat Weight: 2.50
Total Weight: 3.20
Color Grade: J
Clarity Grade: VS1
Table: 52%
Culet: Slightly Large
Crown Angles are greater than 40 degrees
Thank you for sharing your custom designed engagement ring with us back in 2011. We thoroughly enjoy celebrating blasts from the past.
Let TruLuv858 know what you think of her Mark Turnowski Custom Designed Engagement Ring in the Comments section below.
Written by Kayti Kawachi