Emerald Cut Diamonds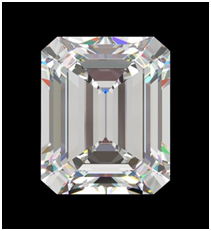 The Emerald cut is a step cut with angled corners and rows of pavilion and crown facets that run parallel to the girdle.  The traditional Emerald cut is rectangular in shape. Recommended length to width ratio for Emerald cuts is 1.50-1.75. Emerald cuts are known for their understated elegance.
**Visit Emerald Cut Diamond Prices for the latest retail diamond price statistics.
Special Characteristics of Emerald Cut Diamonds
It is easier to see inclusions in Emerald cuts vs. brilliant cuts. Optimally, a balanced and symmetrical stone with a table % that is smaller than the total depth % is recommended.  There are a myriad of combinations that can make for beautiful stones, but guided parameters are now available.
Size Matters
Rectangular Emerald cuts that are not overly deep, that are within the recommended girdle thickness range may look larger from the "face up" position than princess cuts, radiant cuts, and round brilliants of the same carat weight.
Basic Emerald Cut Guidelines courtesy of  https://datlas.com/ 
CUT CLASSES
Class 1A
Class 1B
Class 2A
Class 2B
Class 3A
Class 3B
Class 4A
Class 4B

Ideal cut

Premium cut

International fine trade cut

US domestic average cut

below average

Table %

60-65.5%

59-68%

58-69.5%

57-72%

56-74%

53-76.%

50-78.%

>78%
<50%

Crown Height %

12-15.%

11-16%

10-16.5%

9-17.2%

8-18.0%

7-19.5%

6-20.5%

<6%
>20.5%

Girdle thickness
Word descriptions and percentages.

V. Thin to Sl. Thick
(0.4%-4.5%) or
Thin to Thick (1%-5.5%)

V.Thin to Thick(0.4%-5.5%)

Very Thin to Very Thick
(0.4% to 7.0%)

Extremely thin to
Extremely thick
(0.0% to >7.0%)

Total Depth %

60-65%

58-69%

57-74%

56-78%

53-80%

>80%
<53%

Polish/Symmetry
Not a primary determining factor.


Excellent to Good


Good or Fair


Poor to Fair

Square range
Length : Width ratios


Preferences only


0.95-1.05

Rectangular range
Length : Width ratios


Preferences only

1.5-1.75

1.49-1.26
1.76-1.99

> Class 3 < Class 3
CUT CLASSES
Class 1A

Ideal cut

Table %

60-65.5%

Crown Height %

12-15.%

Girdle thickness

Word descriptions and percentages.

V. Thin to Sl. Thick

(0.4%-4.5%) or

Thin to Thick (1%-5.5%)

Total Depth %

60-65%

Polish/Symmetry
Not a primary determining factor.

Excellent to Good

Square range

Length : Width ratios

Preferences only

0.95-1.05

Rectangular range

Length : Width ratios

Preferences only

1.5-1.75

CUT CLASSES
Class 1B

Premium cut

Table %

59-68%

Crown Height %

11-16%

Girdle thickness

Word descriptions and percentages.

V. Thin to Sl. Thick

(0.4%-4.5%) or

Thin to Thick (1%-5.5%)

Total Depth %

60-65%

Polish/Symmetry
Not a primary determining factor.

Excellent to Good

Square range

Length : Width ratios

Preferences only

0.95-1.05

Rectangular range

Length : Width ratios

Preferences only

1.5-1.75

CUT CLASSES
Class 2A

International fine trade cut

Table %

58-69.5%

Crown Height %

10-16.5%

Girdle thickness

Word descriptions and percentages.

V. Thin to Sl. Thick

(0.4%-4.5%) or

Thin to Thick (1%-5.5%)

Total Depth %

60-65%

Polish/Symmetry
Not a primary determining factor.

Excellent to Good

Square range

Length : Width ratios

Preferences only

0.95-1.05

Rectangular range

Length : Width ratios

Preferences only

1.5-1.75

CUT CLASSES
Class 2B

International fine trade cut

Table %

57-72%

Crown Height %

9-17.2%

Girdle thickness

Word descriptions and percentages.

V.Thin to Thick(0.4%-5.5%)

Total Depth %

58-69%

Polish/Symmetry
Not a primary determining factor.

Good or Fair

Square range

Length : Width ratios

Preferences only

0.95-1.05

Rectangular range

Length : Width ratios

Preferences only

1.49-1.26

1.76-1.99

CUT CLASSES
Class 3A

US domestic average cut

Table %

56-74%

Crown Height %

8-18.0%

Girdle thickness

Word descriptions and percentages.

Very Thin to Very Thick

(0.4% to 7.0%)

Total Depth %

57-74%

Polish/Symmetry
Not a primary determining factor.

Good or Fair

Square range

Length : Width ratios

Preferences only

0.95-1.05

Rectangular range

Length : Width ratios

Preferences only

1.49-1.26

1.76-1.99

CUT CLASSES
Class 3B

US domestic average cut

Table %

53-76.%

Crown Height %

7-19.5%

Girdle thickness

Word descriptions and percentages.

Very Thin to Very Thick

(0.4% to 7.0%)

Total Depth %

56-78%

Polish/Symmetry
Not a primary determining factor.

Good or Fair

Square range

Length : Width ratios

Preferences only

0.95-1.05

Rectangular range

Length : Width ratios

Preferences only

1.49-1.26

1.76-1.99

CUT CLASSES
Class 4A

below average

Table %

50-78.%

Crown Height %

6-20.5%

Girdle thickness

Word descriptions and percentages.

Extremely thin to

Extremely thick

(0.0% to >7.0%)

Total Depth %

53-80%

Polish/Symmetry
Not a primary determining factor.

Poor to Fair

Square range

Length : Width ratios

Preferences only

0.95-1.05

Rectangular range

Length : Width ratios

Preferences only

> Class 3 < Class 3

CUT CLASSES
Class 4B

below average

Table %

>78%

<50%

Crown Height %

<6%

>20.5%

Girdle thickness

Word descriptions and percentages.

Extremely thin to

Extremely thick

(0.0% to >7.0%)

Total Depth %

>80%

<53%

Polish/Symmetry
Not a primary determining factor.

Poor to Fair

Square range

Length : Width ratios

Preferences only

0.95-1.05

Rectangular range

Length : Width ratios

Preferences only

> Class 3 < Class 3
Courtesy of D.S. Atlas, Accredited Gem Appraisers, © AGA 1998-2004
Emerald Cuts posted on Pricescope
Threads with pictures of Emerald Cuts
https://www.pricescope.com/forum/rockytalky/helpful-threads-archive-t82527.html
https://www.pricescope.com/forum/rockytalky/helpful-threads-archive-t113993.html
Thread discussing Emerald Cut quality
https://www.pricescope.com/forum/rockytalky/helpful-threads-archive-t94650.html
Intensive Emerald Cut Journal Discussion
Performance and the p3 facets, a discussion about step cut diamonds
Next Diamond Tutorial: Asscher Cut Diamonds »