By
Erika Winters
The de Young museum in San Francisco has opened the "The Art of Bulgari: La Dolce Vita & Beyond, 1950–1990," an exhibition featuring 150 creations from the renowned Italian jeweler, including several from Elizabeth Taylor's personal collection. Many of our members are already buzzing about this show, so get thyselves to the de Young to see stunning Bulgari jewels–posthaste! The show runs through February 17, 2014, though, so you have plenty of time to make travel plans.
From the de Young museum:
Bulgari notably began to create its own trademark in jewelry in the 1960s by embracing boldly-colored combinations of gemstones, use of heavy gold, and forms derived from Greco-Roman classicism, the Italian Renaissance, and the 19th-century Roman school of goldsmiths. The company helped to develop a look that would come to be known as the "Italian school" of jewelry design. Pieces in the exhibition display the jeweler's eclectic creativity and invention during this period.
Works in the exhibition also include those from the 1970s and 80s, a particularly innovative period for the jeweler and one influenced by Pop Art and other contemporary trends. "The hard-edged designs of the 1970s included a whole range based on the Stars-and-Stripes motif, while in the 1980s the Parentesi collection had a smoother, modular, almost architectural presence; both show how the jeweler could lead in new directions with a strong sense of design," said Martin Chapman, curator in charge of European Decorative Arts and Sculpture at the Fine Arts Museums of San Francisco.
Bulgari's successful cultivation of prominent patrons and movie stars like Sophia Loren, Ingrid Bergman, and perhaps most notably, Elizabeth Taylor, has long been a key aspect of the jeweler's reputation. To help explore the cultural context in which these objects were made, the exhibition will include innovative uses of sketches, photographs, and other archival materials that help to reveal a fascinating intersection of celebrity, design, and fine craftsmanship.
Where: de Young Museum, Golden Gate Park: 50 Hagiwara Tea Garden Drive, San Francisco, CA 94118
When: September 21, 2013 through February 17, 2014
Visit the de Young museum to learn more.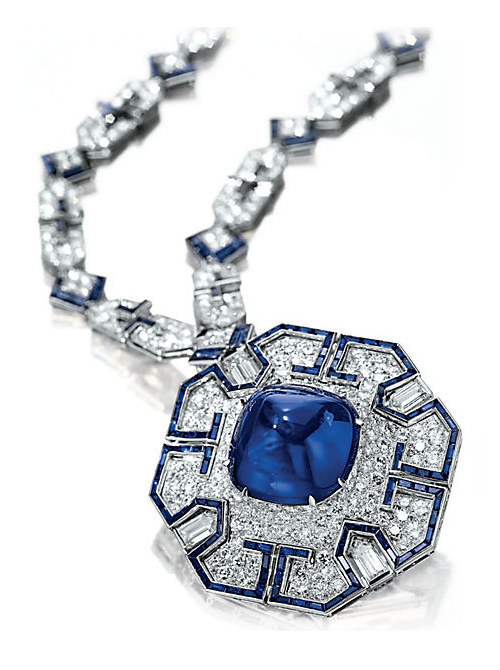 "I introduced Liz to beer, and she introduced me to Bulgari."
A gift to Elizabeth Taylor from Richard Burton in 1971, the Bulgari sapphire and diamond sautoir is Art Deco in style and set with a 52.72-carat sugarloaf cabochon sapphire. The stunning necklace fetched $5.9 million at Christie's auction of Ms. Taylor's jewels in December 2011. The sapphire sautoir is one of 150 jewelry pieces on display at the de Young museum.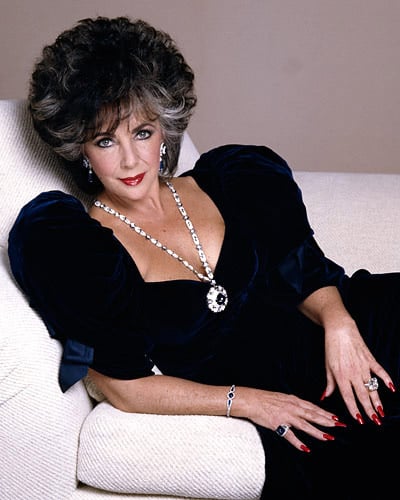 More jewelry exhibitions:
The Metropolitan Museum of Art to Present "Jewels by JAR" this November
Fancy-Colored Diamond Exhibition at the Los Angeles Natural History Museum
"Genius of Nature" Jewelry Exhibition at the Aaron Faber Gallery in NYC