By
Erika Winters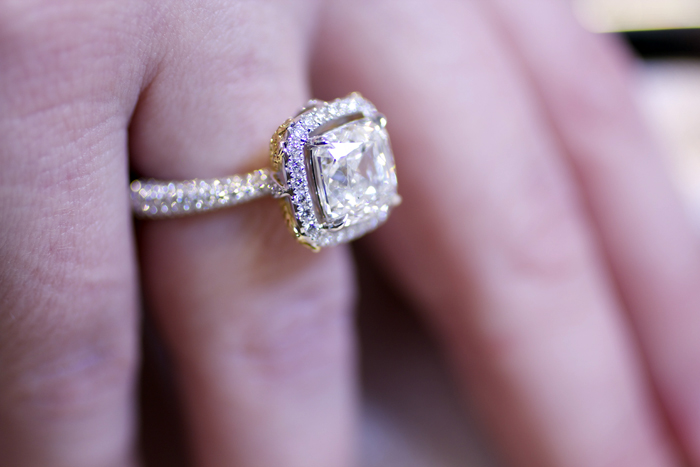 Would you split the cost of your engagement ring? (Image: Erika Winters)
Couples are getting married later in life. Women are earning more than ever before, and many have become the primary breadwinners in their households. So the burgeoning trend of couples splitting the cost of engagement rings makes sense to some. But does it to you?
Today on "The Jury's Out" ABC's Dan Abrams gave his take on splitting the cost of the engagement ring.
Many women are now splitting the cost of engagement rings–that has some traditionalists up in arms. My take. Call me a marital Scrooge, but these rules about the man paying for the ring and the woman's family paying for the wedding are just so outdated. Sure, gifts are great, but a ring is more than a gift. It can be the equivalent of a mortgage. Chivalry isn't dead. It can just be impractical.
And ABC's "The Jury's Out" segment follows last week's poll on The Knot's blog asking "Who Paid for Your Engagement Ring?" and a another poll on the Today show asking couples if they were willing to go dutch.
From The Knot:
The majority of brides (64%) are involved in some way in picking their rings, and 27% helped shop for the ring or were even there at the time of purchase. When it comes to budget, brides also have a say. 32% of brides discussed the engagement ring budget or helped decide on the budget with their groom.
So if more women are involved in the engagement ring purchase, then what do you think about couples going dutch? Would you be willing to split the cost with your partner? Cast your vote!
Would you go dutch on the engagement ring?
Related topics:
Surprise Proposal? Yes. Surprise Engagement Ring? Eh, Not So Much.
Scarcity of Women Leads to Pricier Engagement Rings