Some of the latest stories in diamond and jewelry news…
JCK: Study: Engagement Ring Spending Increases When There Are Fewer Ladies
Men will spend a lot more money on engagement rings if they hear that there are fewer eligible women nearby, according to a new psychological study.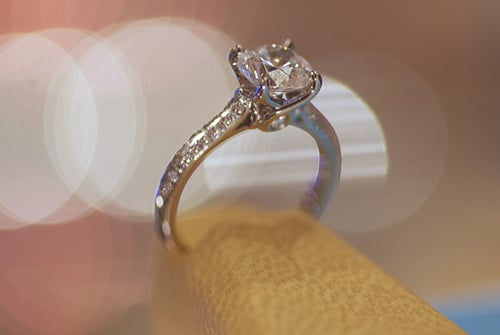 Vatché signature engagement ring
Examiner: Jennifer Aniston's refusal to show her engagement ring has people wondering why
Jennifer Aniston's engagement ring from Justin Theroux has become the subject of much speculation.
Idex: The End of an Era, Oppenheimer Is Out of De Beers
On Thursday, Anglo American completed the acquisition of the Oppenheimer family's 40 percent shareholding in De Beers, bringing to an end the family's 80-year reign in the diamond industry.
JCK: New Federal Rules for Conflict Gold Approved
On Aug. 22, the Securities and Exchange Commission passed a rule that will require publicly-held companies to disclose whether their products contain conflict gold from the Democratic Republic of Congo or surrounding countries.
Idex: Sunk Cost: World's Most Expensive Sink
It may be money down the drain, but for those with cash to spend, nothing says luxury like a 24-karat gold and diamond sink.
HuffPost Style Canada: Avril Lavigne Engagement Photos: Singer Shows Off Huge Ring In Hello! Canada Magazine Spread
Courtesy of Hello! Canada, we have some of the exclusive shots the magazine was able to snag with the couple immediately after their engagement (including an image of the 'Complicated' singer's massive ring).
JCK: Court Okays First De Beers Class Action Checks
On Aug. 10, a New Jersey federal court gave the go-ahead to send out the first checks to industry members in the De Beers antitrust class action settlement.
Bloomberg: Platinum Prices Rise to Six-Week High on South African Violence
Platinum futures climbed to a six- week high on concern that clashes between police and striking miners will spread in South Africa, the world's biggest producer of the metal used in pollution-control devices in vehicles.
The Times of India: Diamonds are forever? India records all time growing sales in diamonds
India is fast emerging as a diamond market behind America. "By 2020, China and India would account for one-third of the total diamond market worldwide," Stephen Lussiere, global chief executive officer, ForeverMark said recently in India.
Related Blog Topics and Forum Discussions:

Angelina Jolie's Engagement Ring from Brad Pitt
Elsa Peretti May Leave Tiffany, Priscilla Chan's Ring from Mark Zuckerberg – Jewelry News Roundup
South Africa police fire on striking miners, several dead