By Erika W.
Some of the latest stories in diamond and jewelry news…
Forbes: Elsa Peretti and Tiffany's Relationship Near An End
Renowned jewelry designer, Elsa Peretti, who has created pieces for Tiffany & Co. for nearly four decades, is attempting to end her relationship with the luxury retail jeweler, according to an U.S. Securities and Exchange Commission filing Wednesday.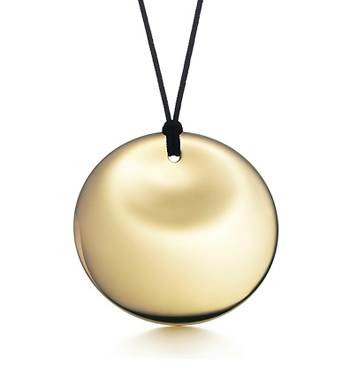 Elsa Peretti Round Pendant
Mail Online: Billionaire Zuckerberg spends an estimated $25,000 on 'simple' ruby ring for Priscilla Chan
The 27-year-old wife of Facebook founder Mark Zuckerberg, 28, flashed her ruby wedding ring during a lunch date in Palo Alto, California today.
JCK News: De Beers Antitrust Class Action Now Final
Your check may—finally—be in the mail.
Chaim Even-Zohar: The Mystery of Two Gemesis Companies Under One Hat
The alert by the DTC to its sightholders notes that the undisclosed synthetic diamonds submitted to the IGI and other labs have characteristics similar to known Gemesis laboratory-grown materials, a conclusion based mostly on scientific literature.
Rapaport News: Ultra-Wealthy Pick Graff as the Best Luxury Jeweler
Ultra-wealthy U.S. shoppers ranked Graff Diamonds highest among 22 luxury jewelers in the 2012 Luxury Brand Status Index (LBSI) survey conducted by the New York-based Luxury Institute.
Huffington Post: Swallowed Diamond: Jewelry Store Owners Ponder What To Do With Gem Passed By Accused Thief
The owners of a Windsor, Ont., jewelry store are undecided about the future of a diamond that spent a week and a half inside a man accused of swallowing the stone.
AFP: Lego Queen Elizabeth with diamond crown unveiled
A Lego model of Britain's Queen Elizabeth complete with a diamond-encrusted crown is to go on display in time for the diamond jubilee.
Related Topics:

Priscilla Chan Zuckerberg – ruby e-ring!
Undisclosed Synthetic Diamonds Identified by IGI
Debating Tiffany & Co.'s Rubedo