By Erika W.
Why Upgrade?
Want a bigger diamond or a diamond of different quality? Want to keep the diamond but upgrade the mounting? Want to mark your wedding anniversary with a new diamond ring? Or maybe, you just want to feel the thrill of getting engaged all over again. There are a many reasons why diamond enthusiasts choose to upgrade. Here are some different approaches to upgrading a diamond ring.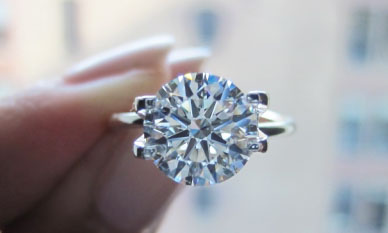 Posted by frankiextah
2.32 carat G VS1 Ideal Cut Diamond
1. Trade-In
Many vendors offer a 100% trade-in value for loose diamond purchases. If your stone is eligible for upgrade through your original vendor, then this is the easiest way to acquire a new diamond. Simply send the diamond back to the vendor, and you get full credit. Stones are usually subject to re-grading, and your chosen vendor will outline the process.
Bonus: You get a new diamond for a 100% trade-in value.
Downside: You have to return the original, so it may not be the best choice for those who are sentimental about their first engagement ring. Your ring setting may need to be altered, or a new setting may be required to accommodate the diamond.
2. Buy Back
Some vendors will buy your diamond within a certain time period after the original purchase. Depending on the vendor, you may receive as much as 70% of the original purchase price. This is helpful if you want to purchase a diamond from a different shop, or if you are not covered by an upgrade policy.
Bonus: You get a percentage of what you originally paid to apply to a new diamond.
Downside: You lose $$.
3. Keep the Original
…and buy a new ring. You may choose to keep your original engagement ring and buy a new diamond ring.
Bonus: You get another ring! Your original may serve as a ready-made right hand ring.
You may also opt to:
Reset the diamond into a pendant to keep the original close to your heart.
Use the stone for diamond earrings, so you can still wear it every day.
Save the ring to give to your son or daughter as a treasured family heirloom.
Keep the original ring to wear on certain occasions…in case you miss it.
Downside: There isn't one. Who wouldn't want another ring? Seriously though, we all know a brand new ring costs $$. 😉
4. Sell or Consign
If a buy-back or a trade-in is not an option, then you may consider selling it yourself. Popular auction sites may be an option, but understand that you probably won't get original value. Consigning through a reputable jeweler is another choice. The jeweler will sell it for you and give you a percentage.
Bonus: If you are selling, you are in control and can set the price. If you are consigning, the vendor does the work for you.
Downside: You lose $$.
5. Upgrade the Mounting
You may want to keep your original diamond and only upgrade the mounting. If you are upgrading as a result of DSS, then add a halo or side stones. If you desire a change, then enjoy exploring new ring styles. Visit the Engagement Ring Eye Candy Thread and the Engagement Ring Tutorial for ideas.
Bonus: You keep your original diamond as a symbol of the romance that started it all.
Downside: Nothing major. A new mounting can be as exciting as a new or larger stone, and you can wear the older mounting set with a different gem. Pick your favorite color and set a new colored stone in the original mounting. Get creative!
Related Threads:
So Spill! How Many Times Have You Upgraded?
Glamour Magazine Poll on Upgrading Your E-Ring