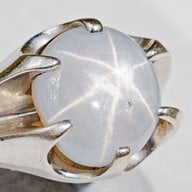 Joined

May 13, 2021
Messages

107
I'm going to have to read this a few times before I can attempt it, but thank you. Unfortunately I don't have any loose SR stones other than a diamond. OR maybe I have CZ stashed somewhere, I'll have to go look. Does this work if the stone itself is a very dark red?
Apologies for the big block of text. I'm not the best at describing. But it really is easier to do than to describe… And it's
cool
, at least to geeks like me.
Darkness of the stone may or may not be a problem. What matters is that you can clearly see red spots (images of the LED) through the stone. If you can, you can use this method. If not, you can't. Another possible problem: the stone may be included, foggy or have weird zoning. This may make the spots too fuzzy to use.
I suggest starting with a big light-toned sapphire. This will show you what to look for. Then work on to smaller and darker stones.
I'm not sure about CZ. If it has a tilt window (which you can check by holding it at an angle and trying to look through it), you can use it. Note that you can use set stones if the setting is open enough. If you can see through a tilt window without obstruction by the head or shank, you can use it. You may only be able to check two orientations (180° apart), but that will suffice.