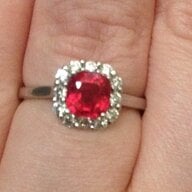 Joined

Mar 30, 2019
Messages

209
Until this experience, I've been able to confirm my gemstone purchases are what they're meant to be with just my refractometer and loupe. I mainly buy sapphires (natural and lab created) and with the colours I tend to go for, it's easy to tell if I've received a garnet or spinel instead because the RIs and/or colourways will be quite different to what I'm expecting. But this is my first time purchasing a ruby and having to do extra tests because the RI for almandine garnet is relatively close to corundum and the colours could potentially crossover. I'm still waiting for my UV torch but I'm confident I'll soon be able to distinguish between the two quite conclusively (though I hope to never have to deal with any red stones again after this project). I also have my DIY polariscope now and I'm thinking of getting a dichroscope too so I'll have my own little ID-ing kit.

If I see a really good deal on something I can't get elsewhere, I may consider purchasing from them again, but only if it's something that I feel confident about identifying myself without casting any doubt. For example, a tanzanite, doesn't have something so similar in colour and RI that I would have too much trouble identifying a switch-up. If I ordered a tanzanite and got a spinel in the same size/colour, that would actually be a better outcome.
Haha, so I guess what you were saying earlier about hawker stalls stands.
Re: telling rubies and garnets apart with UV light - I don't think Thai rubies fluoresce, and they can come in darker reds too. Just so you know.