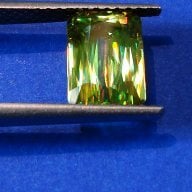 Joined

Sep 17, 2008
Messages

9,016
@Cerulean
considering some of us know round about the ballpark, I wouldn't be fedexing it either. (I hardly want to use them for fabric considering they poked holes in every one of my damn packages for 4 freaking weeks)
Considering how much it likely is, armored car and armed guard makes sense to me. I would too!
OP isn't selling so its very rude for anyone to try to get a price on it (not that people care, it is rude tho) And the vendor (rightly so) doesn't have to say how much it sold for either.
I think that OP sounds excited and over the moon. I would be too.
Reality is, we are not all at the same place in this life. Some can spend more than others. This being a jewelry oriented board and really all about the luxury at a high level, should people be excluded because they can "afford the best?"
Not being bitchy but I will say I don't think you're being very fair.