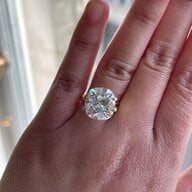 Joined

Nov 8, 2008
Messages

1,396
I've been on the hunt for a bigger upgrade since 2020 when I sold Isla (3.02 GIA i si1 antique cushion 9.47mm X 8.83mm) but with the caveats that it would have to be a) an actual antique and b) be whiter than my last upgrade. Both of those conditions are really hard to fulfill since many of the bigger, whiter antique diamonds have been recut into modern cuts. I got a text from Grace of Jewels by Grace one day (March 2022) indicating that Anup (Jogani Jewels) had just sourced the perfect stone for me. I made my way to LA a few days later to see the stone in person as it was definitely a rare bird, a 6.76 carat GIA H Si1 antique cushion (12.25 mm X 11.49 mm). My first impressions were, "Holy cannoli that diamond is HUGE. And holy crap, that thing is white!" I took a few days to mull over it, and decided to ultimately pass on it as it was still a very expensive diamond and I was just shocked at sheer size on my tiny fingers. Needless to say, the diamond was sold very shortly after I passed on it due to the rarity of size and color.
I would peruse IG looking for any 5 carat + GIA H or higher antique cushions with very little success on any nicely faceted ones. I began to regret passing on the 6.76 and thus, I started searching for it. I found it for sale online by searching for the specs. However, we were in the process of buying a second home (our dream home) and had to wait for that purchase to be done with. Once I got the go ahead from the hubby, I enlisted the help of 88 Star Jewels and purchased the stone from her. Grace of Jewels by Grace graciously allowed me to use her cutter to fix the slightly off center culet (something that only I could be bothered with ) and I was able to observe a master diamond cutter work his magic!
I am waffling between getting a very simple solitaire (ala Ring Concierge's antique signature setting) and getting a solitaire with a very fancy gallery from Mike of David Michael Jewels as he made my last ring and I utterly loved how delicate but sturdy the unique the design was. Even though I am a halo girl, these tiny fingers cannot handle a giant rock plus a halo with the lack of real estate. I'm flirting with a floral design again and a more celestial themed design since I have a lot of under gallery space due to the size of the diamond.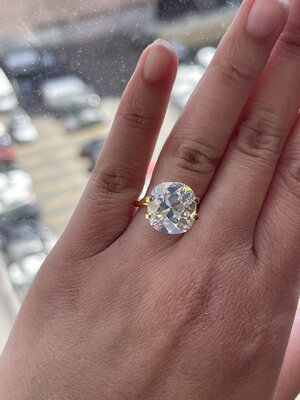 As I've traditionally named my big cushions, I'm at a loss as to what to call this stone- Moby (as it is my great white whale), BDE (Big diamond energy or.. Big D**K energy), ect ect... Open to suggestions!