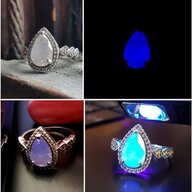 Joined

Sep 21, 2008
Messages

1,666
Hello to Everyone out there who may have or be interested in phosphorescence in diamonds!
I have seen several posts in the past about phosphorescing diamonds and I am hoping that if you happen to have a diamond that phosphoresces, you can share your experiences with your gem.
You see, I have a fancy white opalescent diamond, and after years of study, and comparison, it seems that it is difficult to find really detailed written material that shares the type, color and length of phosphorescence. There are a few older studies, but nothing expansive and recent. Although, the Hope Diamond is amazing at phosphorescing..
If I could start by sharing, this diamond is a 3 carat fancy white, pear cut. It fluoresces brightly blue under LW UV light and it phosphoresces purple (although all of the pictures I take show blue-ish) under SW UV. When the SW UV exposure is removed, this diamond continues to glow for a very long time, up to 10 hours! But to get it to stay lit for that length of time, it has to be kept in the dark. Once it is exposed to a light source, the glow fades in a few minutes.
While phosphorescing in the dark, it is bright enough to be able to light the face of a watch, or the hand wearing it.
It is natural, no treatment, and has been tested.
Also, examined by several gemologists, who think it is a very unique stone. I wonder how unique, are there others?
My hope is that we can find out if phosphorescing diamonds can stay lit for an extended period, and for how long that might be,
Please post and let everyone know how long your diamond will stay lit.
The setting was changed from double halo to single, but it is the same diamond..just a bit more my style.
This diamond has become my night light!
Thank you so much for sharing!