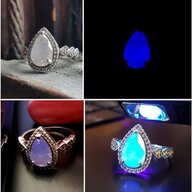 Joined

Sep 21, 2008
Messages

1,666
Sithathoriunt. You should never assume diamond sellers know or care about diamonds.

Sadly. (does that mean South of the Orient?

Unrelated, but I was given a crazy UV lamp yesterday.

It is perfect for making blue fluorescence:
I think I just had my bubble burst...
can I still hope that the sellers at least care about the money they could make if they knew more about the diamonds they were selling ? Maybe wishful thinking...
Anyways, I believe that 254 nm is the same as the lamp I use...Ill check...
I have such an appreciation for gem phenomena, sharing the knowledge and learning with everyone is amazing!