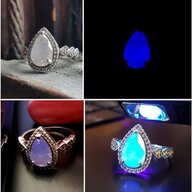 Joined

Sep 21, 2008
Messages

1,666
flur.

Those are gorgeous! As is the Aurora collection. I don't have anything quite as beautiful, but I do have a couple pictures. The top picture left to right is a chameleon, the fancy green yellow with strong blue fluorescence (the one that phosphoresces but I can't get a picture of that), and my fancy intense green yellow with strong green fluorescence. The bottom picture is the fancy green yellow, the fancy intense green yellow, and a fancy yellow.
Your gems are beautiful! Thank you for the pictures! And you have a chameleon! That is very cool! I have always been fascinated by them.. I don't have any more diamonds that show either fluorescence or phosphorescence just the inert kind..lol I don't know how Roselina managed to photograph her diamond phosphorescing but maybe she could let us know so we could try to capture our little night lights?
All I have is my phone for a camera and it just doesn't seem to be able to do that...
The pictures I had from before were taken by a photographer friend who was curious to see if he could capture the effect..