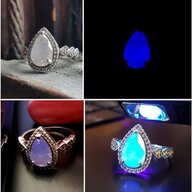 Joined

Sep 21, 2008
Messages

1,666
As from what I have experienced playing around: stones with a very strong fluorescence also tend to phosphorescence. Mine - with super strong blue fluorescence - does so very clearly and for quite a bit but I've never heard of 10 hours! (That is so cool! My other stone with medium fluorescence also shows the effect but much less.

I stumbled over this topic because Nikki1415 mentioned it in relation to her gorgeous OEC target ring. I have heard of fluorescence but not phosphorescence before. Doing a bit of research I came across this article about the (blue) Hope diamond...
Hi Roselina
Do you have any pictures of your gems, I would love to see them "in action"!
I also checked out the thread you mentioned, very interesting ...this subject. Maybe we can get some data on what people are seeing with the phenomena and how long we can get it to last, if we can influence this and how...