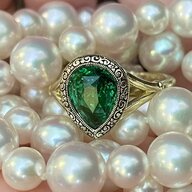 Joined

Mar 2, 2009
Messages

12,627
Thanks to Pricescope, I recently discovered the amazing Pad Sapphires, and I'm hooked. I'm getting married in 5 months, and one of the major motifs/themes of the wedding is Lotuses (they are my favorite). I have lotus designs on the invitations, made origami lotuses for decorations, and even had lotuses embroidered on my dress! And I would LOVE to have a "Lotus" sapphire ring made to wear for my wedding, I think it'd be really fitting
I don't know much about buying gemstones (I merely admire), and was hoping to get some help and insight from the lovely and knowledgeable people of Pricescope. I only have a budget of about 800$ for the stone, and am looking for a delicate pad sapphire preferably around 1 ct. I'm not looking for the "perfect" specimen; in fact, I'm hoping to find a stone that's kind of pale and soft and not so vivid. I just want a pretty peachy-pink color and some personality and sparkle. I don't mind if it's heat treated, but I do want a round, oval, or cushion cut.
The only ones I've found so far are from the Natural Sapphire Company, and was wondering if I might get some opinions on them?
1.
Pad1
2.
Pad2
I really like the first one because I like that the color's a little uneven (like I said, I'm not looking for textbook perfection, I like unique) and that it looks really soft. I think the second one is nice too, but seems a little bit too purple to me (or is it just my monitor)? Do you guys think these are fairly priced?
Thanks for taking the time to read this and help me out! I really hope I can make this happen in time for the wedding, I guess we'll see!