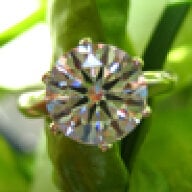 Joined

Aug 8, 2005
Messages

7,395
Date:

12/1/2005 11:48:36 PM

Author:

Mara

Hmmmm well doesn't LLL's ring sit flush with her w-band? I thought so.



If so, why couldn't they make the head like hers? It's 6 prong. It doesn't seem to sit that high at all. It looks alot more fluid and cupping the stone than the stiff prong look and her stone is 2.5c so it's even larger, meaning it's deeper.



Sorry to go on and on about it, if you are happy with it then just tell me to stuff it. I won't mind.

But if you wanted something different, I think you should get it. From what you described, the ring doesn't sound like the same head. Unless I'm missing it. My two cents ....





Anyway, I am so loving that stone. Such an excellent choice and sorry you aren't convincing anyone it looks like a 1c!!!
they are saying that my head and LLL's are the same. i don't know.
i DO love the diamond though!!!! and those prong tips! i am in love with them. i was so scared they'd be huge stick-like things jutting out the sides. or like water droplets. but, no. they're perfect prongs tips!
and did i say i LOVE the diamond?? hehe