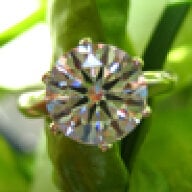 Joined

Aug 8, 2005
Messages

7,395
whoo hoo! my BF and i have just returned from our Houston/WhiteFlash trip this weekend. We took a another (closer) look at the ACA 2.13 J SI2 and have decided that it is officially the one!!

To check out the specs, check out my
previous thread
. we are so excited!! the diamond is going to be independenly appraised and then we''ll work on the setting!!
i took some pics for everyone to see. sorry they aren''t the best...but they''ll have to do for now. enjoy!!