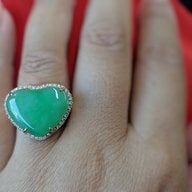 Joined

May 17, 2014
Messages

4,318
So it's been a while since I've bought anything but there's been one thing that's missing from my collection and that's a Jadeite bangle.
I've got some odds and ends over the years but they barely had any color and you had to really squint to see the green.
Anyways I started hunting. Much drama! Bangles are expensive!!! Green bangles are very expensive!!!
How green do I want it? Do I want a dead green that's unpleasant but obviously green? Do I buy a nice jelly texture that is insipid? Do I opt for a sugary bangle that will allow me to afford more green? Do I opt for a really thin bangle which will give me better colour and texture but it'll be super thin.
In the end I settled on this bangle. I wanted a fresh green that was obviously green. Couldn't afford super green but it had to be fresh and not "squint and imagine a shade of green" kind of colour. The thing I was happy to trade on was texture.
Bloody vendors from China are shady as heck with their videos though. The color needs to be dialed down severely based on what they show you.
So with all that in mind.....ta da!!!
Ohh it has a certificate from the Hong Kong Gem and Jade lab that Bonhams uses. I figure if it's good enough for Bonhams, it's good enough for me!