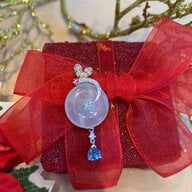 Joined

Jun 6, 2013
Messages

1,427
Excuse my ignorance but what is "bean quality" ?
Is it bad to wear two together? I tried mine together but the clinking makes me wonder if it might damage them, though the sound is actually rather pleasant.
And yes, I would dearly love a lavender one but.......
It's referring to the translucency and texture of the jade. Based on my understanding, there is:
1) Glassy: See through and glossy like glass. Super expensive. Like mortgage your house expensive.
2) Icy: Highly translucent, may be glowy.
3) Taro/Glutinous: Translucent but like looking through starch water.
4) Flywing/Crushed Ice: Semi-translucent and you can see the crystalline structure, may be coarse-grained.
5) Bean quality: this is the entry level for fine jade—ranging from "glows in the sun" to "glows if a flashlight is placed on it" to totally opaque. The grain can range from fine to coarse, the texture can be glossy to rough.
I want to know if the metal bangle will scratch the Jade?

I have a rose gold bangle that would look adorable with the Jade bangle!
I was told not to wear metal, because it may scratch the jade but I do it anyway... I try to "park" my bangle anyway so they are not in contact much.
But Bron, wearing two bangles together is totally fine if you don't mind the clinking!