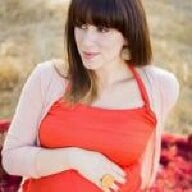 Joined

Dec 23, 2012
Messages

202
I'm so excited to finally have my ring and be able to share it! ERD was really wonderful to work with and even with a few hiccups, I really don't think I could love any other version more. This was both an anniversary upgrade and a replacement for my original engagement ring that was stolen during a home break in.
The ring is a hand forged 14k Rose Gold, size 7 1/4, and is so incredibly delicate. (2mm at it's widest) The diamond is a GIA certed Old Mie brilliant sourded through Adam at Old World Diamonds. It's 2.75 cts, O-P Range, VS1, 8.37 x 8.8 x 5.48. It has some color, but it's shockingly white top down - and I think the rose gold really helps!
I really love this ring. It's dainty, and feminine, but it still feels so strong and secure! My diamond knocks my socks off. It's a little disco ball sitting on my finger. I just can not stop staring at it.
Now, on to the photos!
Here are the shots that ERD sent to me before they mailed the ring: