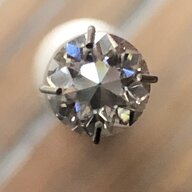 Joined

Jan 24, 2019
Messages

542
I'm sorry you can't see the milgrain, because that is a really pretty detail, but it still looks great!
Thanks! Yeah, I wish I could see the milgrain, but it's not a total loss as I still really like the ring overall. If I really wanted to do it perfectly I would have sucked it up and done it with my go-to jeweler or one of the recommended PS vendors.
I do want to add that I love the OMC even more now that it's set! The facets look gorgeous in all light settings and not plasticky at all.