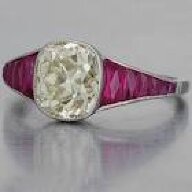 Joined

Feb 1, 2012
Messages

265
I agree with all you said!... I can't wait to see your finished ring ... I hope you don't mind if I save your CAD for maybe a future project.... can I ask who you contacted and used through Stargems?.... thanks in advance!
Yes, please feel free to use the CAD. I am working with Mona. The best way to communicate with her is on WhatsApp, her # is 01186 181 7740 5297. She is VERY patient and kind and responds as soon as she's logged on. The whole factory closes from Noon to 2PM (China time) for them to each lunch so if she's MIA for a couple hours, that is why.
When you are ready to pull the trigger on the ring, tell her Gigi sent you. I'm going to get some simple earrings from them after the holidays so she shouldn't forget me anytime soon. I will make sure to post plenty pictures and videos of the finished ring when I receive it. She told me 15-20 days about a week ago. I'm not in a rush, don't want them making mistakes. SG has been having a couple issues(only two that I know of) setting ACCs recently so both companies are clearly overwhelmed. I literally had to tell Mona that I want whoever set Lucky_Rabbit's ring to set mine! I'm trying to get ahead of any issues that may arise in production of my ring. Wish me luck!