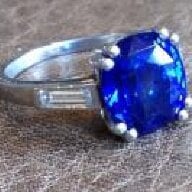 Joined

May 15, 2013
Messages

9,829
CharmyPoo|1383414470|3549114 said:

arkieb1|1383033729|3546627 said:

I don't think Leon even realises I am a P/S member to be honest, and I had intended to keep the whole thing off here, but when he posted my personal info on there this morning I made the decision to tell everyone what has happened.

I think he believes he can bully anyone than he perceives is less powerful than he is. In this case, it has backfired.

I honestly believe that you being a PSer would have no bearing on how he treated you. I find Leon's playbook pretty straight forward and if someone wants to work with him - it is rather painless as long as you work within his playbook. This is not to defend his behavior nor to discuss if it is even right that one has to play by his rules when they are paying. It's just the realities of it.

I never bring my personal life into dealings with vendors. I don't see why it has to do with anything - a business deal is a business deal.

I am sorry for the pain you went through and no one deserves that stress.
In my opinion this case goes far beyond artistic behaviour... Holding a stone hostage and not delivering should not be in the playbook of a serious vendor.
Also, Arkieb did not share her personal life. Only after months in which Leon could not deliver (and failed to communicate about it) and when her mother got seriously ill, she shared one personal matter with him. Just to explain why she decided to sell the stone. And moreover: if Leon had delivered within a reasonably timeframe, the ring would have been on her finger by that time.
I think vendors should be absolutely discreet about any information shared during their business deal.