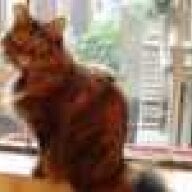 Joined

Apr 14, 2005
Messages

2,547
As many of you know, my beau & I have been in the process of having a ring custom made for a while now. (Here's the thread in Rocky Talky on the subject.) I was fairly sure that my boy received it last week, but I wasn't sure how long he was going to make me wait before he slipped it on my finger. I was getting pretty excited about the ring & would frequently check his pockets to see if he had a treat for me in there. (He later told me that, while it was initially amusing, he was starting to freak out thinking that I'd ruin the proposal by checking his pockets when he actually had the ring in there!)

We were going on vacation with his family to Block Island last week, but I thought it probably wouldn't happen during the trip because there would be so many people around. (Kaleigh disagreed, though! She convinced me that I should be prepared for a proposal.)

So I developed an odd suspicion that he had packed the ring in his guitar case because he had placed his case by the door the day before we left. (He usually doesn't pack this early.) As soon as we arrived, I bought him a Block Island bumper sticker for his guitar case, as he likes to collect stickers from every place he plays his guitar, & put it on his case. (I was good & didn't look inside!

) I asked him if there was anything different about his guitar case, mostly to see if he'd noticed his new sticker. Mostly…

He told me there was nothing inside of it. I couldn't resist the opening and told him that I had a feeling he hid the ring inside his guitar case, but maybe I was wrong. He told me that it had indeed come in & that it looked great, but was surprisingly big & heavy. (he said it weighed 12 pounds!) He said he was storing it in his safe, but when we got back from vacation, he'd give it to me. So I was a little disappointed as I'd gotten my hopes up, but was looking forward to getting it a bit later.
In the meantime, we had a wonderful vacation on Block Island. We stayed on his parents' boat & had a great time exploring the island—biking, swimming, beaching, kayaking, mopeding, clamming, eating way too much, etc.

After a day of clamming, which was tons of fun, but left my hands quite dirty & all of my nails ripped, we got cleaned up & went out for a fancy dinner with my bf, his parents, his little brother & his brother's gf. After the meal, we wandered out to the yard of the restaurant, a farm with a petting zoo. We were looking at all of the animals—emus, camels, goats, llamas, etc., & the rest of his family wandered off. My bf started saying some very sweet things to me, which didn't arouse any suspicion because he's such a sweet boy & does this often. Then he reaches into his pocket & pulls out the ring! I was shocked as I totally wasn't expecting it! We wandered back to see his family, who were shopping in the town's many stores. We rounded them up & made our announcement, then split to spend some time alone.
I was happy, but in truth was just a bit disappointed that a) I wasn't prepared and b) c'mon---llamas!?

So, we walked over to the beach together & suddenly he stopped, got down on one knee, looked into my eyes & proposed again. It was perfect!!

We hung out on the beach for a while & listened to the waves & watched the stunning orange moon. Afterwards, we walked up to a restaurant on the beach that had live music & dancing. I'd passed by earlier & the music didn't sound very danceable, but as soon as we walked in, the band started playing swing music (we both LOVE to swing dance) so we ran onto the floor! We were the only ones dancing & everyone took our picture & applauded for us! We went for ice cream afterwards, then took the launch back to the boat.
I'm so happy & fortunate to have found someone so wonderful as a life-partner.

Ok, now on to what you really want----pictures!
I'm so pleased with how the ring turned out! I can't recommend Quest more highly!

They've been so pleasant to work with—very friendly, prompt responses to my many emails & questions, timely delivery of the ring & it's just exactly what I wanted! The details are beautiful & the craftsmanship is wonderful! (This is one heavy ring!) The halo, bezel & little side pieces were cast, but the rest of the ring was handmade.
I took these hand shots with my digital camera. I'll try to get some better ones soon—this jewelry photography thing is harder than it looks!
I'll post the images from Quest as soon as I receive them.
The diamond is a 1.23 carat RB, G, VVS2 & my ring size is 7. (I'm sorry I don't have more details on the center stone—it was a family piece so I don't have much information on it, which makes me a terrible PriceScoper!) The mounting is custom made in platinum from Quest Jewelers.
Thanks to everyone in my Price Scope family for all of your help, support & encouragement throughout this process! You guys are amazing!