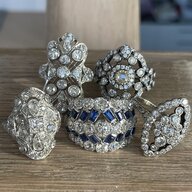 Joined

Sep 9, 2020
Messages

959
I am not a fan. From this photo it appears the faceting isn't well defined or crisp and the pattern more random than I personally like. Not checkerboard patterning. But I would like to see this one in action with videos and more photos too. You want to evaluate the light play across the stone and see the on/off pattern and is it a bright stone. Much better to evaluate in action.

The more you see the better you will get to know what you like and what to look for. It is just a matter of seeing as many as you can. Looking forward to seeing the one you choose.
Hi
@missy
-oh this is not an image of the real diamond-just an example of the facet pattern. I don't want to jinx it by posting a real pic until I have the ring in hand!
It's kind of strange-seems like OECs are very difficult to photograph. For example, the two diamonds that I tried on last weekend were gorgeous irl. I didn't take pics or video footage because I knew I wasn't going to seriously consider either one (both rings were 5 ish carats and over $80k).