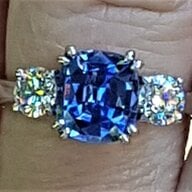 Joined

Apr 5, 2012
Messages

766
Wow! Now that is GORGEOUS!!!!!
Holy guacamole!!!!! Breathtaking.
Simply STUNNING!!

It's a great version of the classic target ring.
What a beautiful cut, it looks stunning on you!!
oooh la la oui oui!!! gorgeous
Thanks everyone, I am really pleased how it came out
I loved the first way you set it and as I'm reading I was sad you changed it, then BANG! WOW!!!! I love halos with colored stones. Yours is incredible. Will you wear a wedding band along side of it?
I know, I couldn't believe it when I first got it back from the jewellers re-set with the trapezoids and felt just a little bit underwhelmed. The setting was technically really nice, and I had always wanted trapezoid side stones on one of my rings. I felt really strange about it - I knew it was a lovely ring, and I loved the PrinceCut, but I kept noticing that I was reaching for other rings to wear before this one. It seemed such a shame after I had taken so long finding the PrinceCut, but my husband said "if its not right then change it" and I'm so pleased he encouraged me to do it.
I designed it so I could wear a band next to it if I wanted but I probably won't as its going to be a right hand ring. I wanted the underside of the setting completely open, even though I like the look of the intricate wire-work on some of the target rings, because I wanted maximum access for cleaning.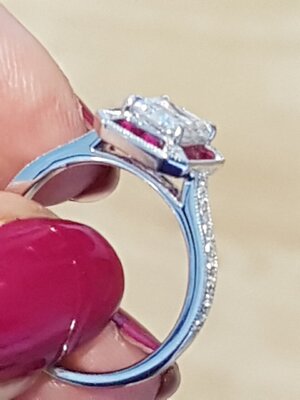 At the risk of being boring, here are a couple more pics