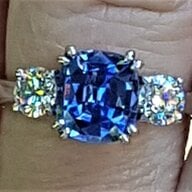 Joined

Apr 5, 2012
Messages

986
Hi all
I am on the lookout for a modified emerald cut such as one of the branded cuts like Spring, Ashoka, Crisscut, Prince cut or tycoon if it has clipped corners . I really like additional sparkle and facet pattern that the scissor cut facets add to these types of cuts. However, I'm used to buying more mainstream diamond shapes with the help of ASET images and am very keen on maximising light performance. I have seen some examples of the stones which seem to show windowing and bowtie effects, although I'm unsure if this is just because these were poorly cut examples, or whether this is general to these cuts.
I am leaning more towards spring cut so far, because of the chunkier light flashes and facet pattern but Im not sure if these are going to be problematic because of having larger tables. Its not clear if the spring cut was designed to have a larger table and shallower depth in order to maximise spread or whether the proportions vary from good to terrible just the same as other emerald and radiant cuts. I haven't been able to find much info about it other than a fairly brief summary which was presumably written by their marketing team.
Also the general message from Pricescope seems to be that for max light performance, tables should be smaller than depth, and shallow stones with large tables are to be avoided because of lack of performance/ glassiness/ dullness etc. However, I'm wondering if this also holds true for stones which have been designed this way like the L'amour crisscut which is supposed to maximise spread whilst retaining light performance according to their marketing info. I personally don't like the look of the L'amour myself but the cutter clearly set out to cut a shallow diamond which would still perform well. Is it really possible to get this combination together?
Can any of the pricescope experts weigh in on this? Karl K - Have you done any analysis of these cuts? I would love to see an ASET for one of these!
Do any pricescopers who own any of these cuts have any input on the pro's and cons of these cuts? Any spring cut owners out there?

Last edited: