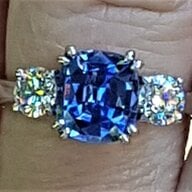 Joined

Apr 5, 2012
Messages

766
If the PrinceCut makes you happier, where's the issue? And your suggestion of several small Asschers, ooh, shiver. A band of those under your new ring?!? Whoa.

Husband and wife jeweler team in Neenah, the Slavens, are GIA grads and made each others' wedding rings. Hers is an eternity band of vivid yellow Asschers with white RB top and bottom. I can barely look the woman in the face, I just want to grab her hand and stare at that ring.
I'm terrible for ogling peoples rings as well - its one of life's guilty pleasures
There are a number of Asscher bands on this forum on the hands of those with truly exquisite taste. You're in that category. I'm grateful to be here learning from those who have an eye.
Awww you are too kind. "Exquisite taste" would be the generous description, picky and overly-perfectionistic to the point of obsession might be more accurate