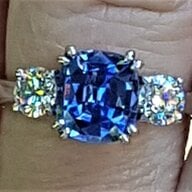 Joined

Apr 5, 2012
Messages

986
I have always been drawn to diamonds with more unusual facet pattern arrangements, and I especially love the "scissor cut" look that some of the branded diamonds that emerged in the last 20 years show. So I have been on the lookout for my perfect scissor cut syle diamond for a good few years. Many of these are very pricey to buy new (crisscuts, Ashoka's to name a couple) and not all of them are excellent examples of their type either.
So I have been scouring the secondary market and looking for the occasional loose diamond that crops up on sites such as
BN
and
JA
as well. I have discovered that looking for one of these specialist cuts using the usual PS cut parameters does not work very well, and even great ASET images do not always predict optimal performance (if ASET images are even available). There were various false starts along the way including a Victorian Cut with great facet patterns but a leaky pavilion, and an unbranded scissor cut with a great ASET but light performance that was either all "on" or all "off" and a feather breaching the girdle.
My criteria for this stone were very onerous and, given that I was only fishing in a small pond anyway, got me wondering if I was ever going to find my perfect stone

It needed to face up white (H + but preferably F), be eye clean, be at least a carat, face up well size-wise for the carat weight, be GIA certified, have excellent contrast patterns to really appreciate the scissor facet pattern, have minimal leakage (dispersed across the stone rather than focussed in one area creating a dull area under the table - my pet peeve
!) and finally it needed to knock my socks off in a way that a really well cut generic emerald or radiant could not.
Finally I found this Prince Cut for a steal on ebay, languishing in a clunky, poorly fitting setting, and snapped it up. There was no information like ASET or other light performance data, only the GIA report accompanying the centre diamond. I wasn't a fan of the setting but the Prince Cut just had so much appeal visually based on the vendors photos and videos that I snapped it up.
I believe that some Prince Cuts are still being cut currently, although they do not seem to be widely available. To me they look like a cross between an Ashoka and a Crisscut. Here is how the GIA shows Prince Cuts in their plot diagrams: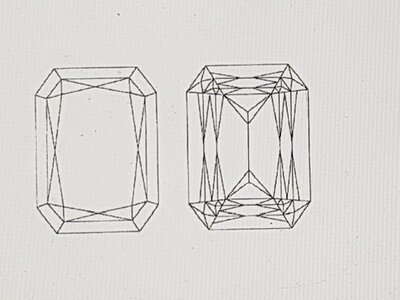 Here are the specs of my Prince Cut:
1.10 cts F VS2
Table: 74% depth 66.8% Girdle: thick
6.67 x 5.14 x 3.44mm
Here is what it looked like when it arrived: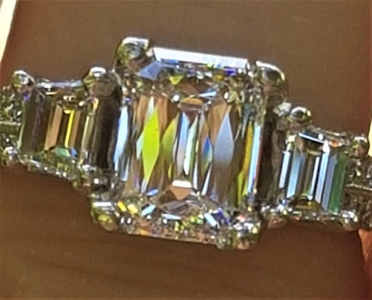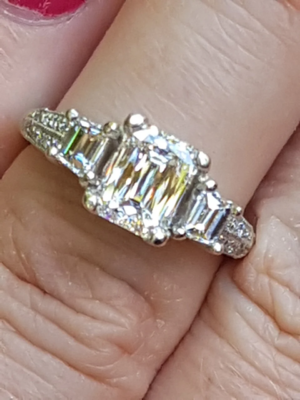 Here is the ASET image I took with my own handheld ASET viewer and back-lit tray: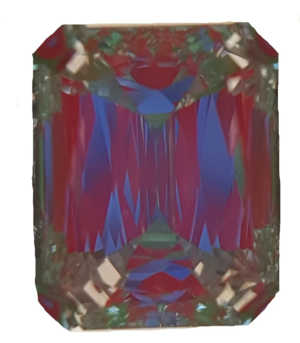 It was way too small to fit my finger so I couldn't even wear it whilst I considered how to re-set it. I decided it would be great to be able to re-use the trapezoids from the existing setting since they were F VS2's perfectly matched to the centre diamond.
And this was the result: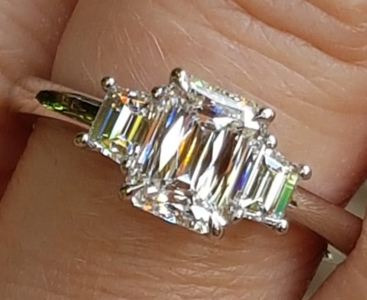 And the story should have ended there except........
Whilst I really loved how the trapezoids complemented the centre diamond, and the clean lines of the platinum setting, I kept finding that it just didnt have the presence on my finger to give me the "wow factor":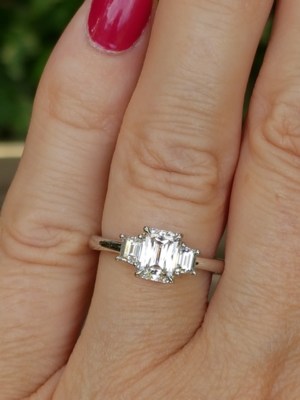 I started thinking about a halo to maximise finger coverage. I have always loved art deco style coloured stone halos, and decided that the warmth of rubies would contrast nicely with the F colour of the diamond, and that french cut rubies might highlight the elonagted kite shaped facet pattern of the PrinceCut.
So, months later, here is my new ring. I really think the new setting makes it pop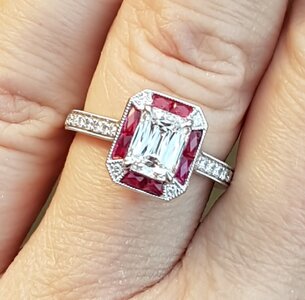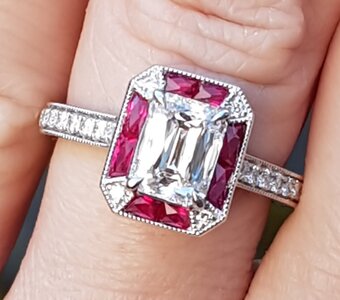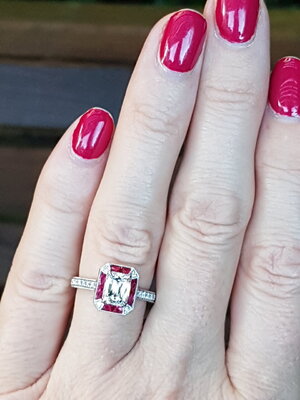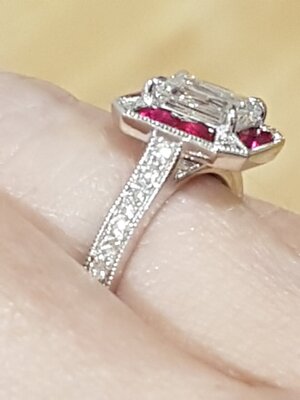 And here is a video:
<iframe width="560" height="315" src="
" frameborder="0" allow="accelerometer; autoplay; clipboard-write; encrypted-media; gyroscope; picture-in-picture" allowfullscreen></iframe>