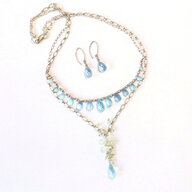 Joined

Sep 23, 2017
Messages

2,307
I just dislike all the comments about how I could have had a much larger non-branded ring for the same price etc etc.

Ignore that b/c it's not relevant to your situation and is frankly no one else's business if you want a branded ring or not. If I may say, you shouldn't let their comments egg you on or rush you towards getting a different / more distinct setting.

You just need to figure out if you can live with this ring until you upgrade to the one you really want or if you are going to hate wearing it, in which case it may be worth taking a loss on it and getting something else immediately.

I have seen a few people on here who didn't like their ERs at the start and turned out to love them, so I personally would probably wait and take advantage of Tiffany's upgrade policy later but that's such a personal decision.

Good luck!