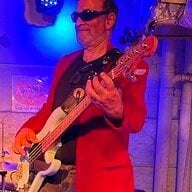 Joined

Jan 7, 2009
Messages

8,368
Sledge posted his example of the woman who bought "good enough" diamonds, but was disappointed, until she received ideal cut stones, which she loved.
See here's the issue.
No one reading this actually saw the stones in question. They're called 60/60 by Sledge...maybe they are. Maybe I would not have like them either- who knows- but none of that is soley because they are 60/60
Sledge, a consumer, adores his Super Ideal Diamonds. Of course, he's free to rave about them all day long.
And to assist others in obtaining what he knows, from his personal experience are the best.
Cool.
He will find others with the same opinion.
Sellers of these stones, wow they must love it!!!
But say you have a different opinion about which is the very best cut. People do. It's not a "fact" that what any of us love is the best- no matter how much you love it.
Voice the opinion that there are other proportions that you love as much or better, and a chorus of fans will shout you down and even insult you.
Since I don't agree with thge PS suggested proportions, then I must ADORE horribly cut pieces of garbage.....
The sellers of SI stones must truly love it.