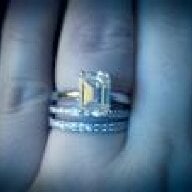 Joined

Nov 12, 2004
Messages

6,183
from Pearlman's!!!!

I waited all day, and it finally arrived at 6 pm! I just wanted to kiss the UPS man when he got to my house!!!! LOL!!! He definitely thought I was a wacko!



As some of you know, I have been strongly considering re-setting my 1.75 ec solitaire into a new setting that would allow a w-band to sit flush. My current e-ring will allow NOTHING to sit flush with it, it is so low, and I know inevitably it would really bother me.... it bothers me already and I am not even married yet!!!

I wanted to keep the band thin, but possibly go with something a little more bling-y. I called Bill Pearlman, who is an absolute doll, and he spent almost an hr on the phone with me just chatting and reviewing all of the options. I let him know that I was interested in one of the Gumuchian settings on his site (the pave one with the big EC in it) and the

Ritani

endless love mounting. He said both mountings can be made for an ec. He then made the generous offer to send me the settings so that I can inspect them in person...how great is that???? Anyway, that was Wednesday, and I knew they were coming today, so I have been waiting patiently ever since...



Please, give me your opinions on the two settings and what you think would look best with my stone....



So, without further ado- PICS for my PS friends!!!


Warning: there are lots!!



First, the

Ritani

set (I think with a princess CZ)...