Ok, so pictures of Jennifer Aniston's engagement ring from Justin Theroux are finally starting to emerge. And while any pictures of this sizeable rock will satisfy some folks, um, we PS'ers need a bit more. From what we've seen, the diamond looks like a cushion-shaped rose cut, set in yellow or possibly rose gold.
If it is a rose cut, which is an older cutting style featuring a flat base and a domed, faceted top, then estimated carat weights may be elevated: rose cuts "face-up" larger than other diamond cuts. The stone is huge no matter what the cutting style, and a rose cut would definitely suit Jennifer Aniston.
Thoughts? Join our celebrity engagement rings discussion.
…oh and we are digging her necklace too.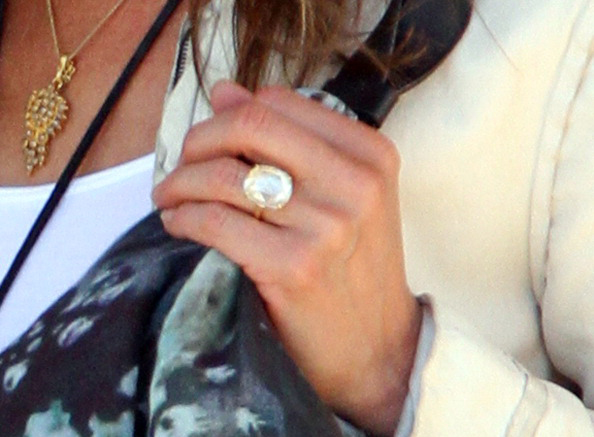 Photo by Jason Thomas/FilmMagic
Jennifer Aniston in Santa Fe, New Mexico on October 6, 2012
Related Topics:

Jennifer Aniston's Mystery Ring – Jewelry News Roundup
Blake Lively's Engagement Ring Reveal