I'm always fascinated by jewelry in film, and when a film's focus is our beloved grande dame of jewels, Elizabeth Taylor, I'm riveted. Though the Lifetime Television film Liz & Dick has been dubbed a "train wreck," and Lindsay Lohan's comeback performance was widely panned, this is the type of guilty pleasure that only Lifetime can provide…jewels and all.
Jewelry Prop Shop, a division of Skinny Dog Design, created replicas of some of Elizabeth Taylor's most renowned jewels for Liz & Dick, including the Taylor-Burton diamond necklace, the Krupp diamond ring, and La Peregrina pearl necklace by Cartier.
Jewelry Prop Shop is owned and operated by husband and wife team, Jennifer and Scott Janiak-Ross. Jennifer does the design work with sketches and CAD, while Scott does the metal work and fabrication. Together the couple has produced jewelry for over 100 Hollywood productions.
I spoke with Scott today about the process of creating replicas of such iconic jewelry pieces.
"It was an honor to be able to work on these pieces. To closely reproduce iconic jewelry is something you don't usually get to do. To have these pieces come out perfectly, even under budgetary restraints, was incredible," said Scott.
All of the pieces created by Jewelry Prop Shop were made in rhodium-plated sterling silver. Replicas of the Taylor-Burton diamond necklace and the Krupp diamond ring were created using cubic zirconia, cut to scale by Colored Stone International in downtown Los Angeles. The Peregrina pearl necklace replica was made using high-grade imitation pearls.
"The designs had to be slightly different due to copyright," Scott said. "The Krupp diamond was made to exact scale, but the setting was slightly different. The same went for La Peregrina. It was made to scale, but certain elements are different in the original Cartier design. The best part of the challenge was how to make these pieces as real as possible but not infringe on copyright."
The Taylor-Burton diamond necklace, the Krupp diamond ring, and La Peregrina pearl necklace were all designed using CAD. The couple also sourced a stock synthetic ruby necklace to replicate the Bulgari emerald necklace.
"The stock synthetic ruby necklace was made green by using CGI, so in some scenes it looks slightly orange," said Scott.
Movie magic.
The Taylor-Burton Diamond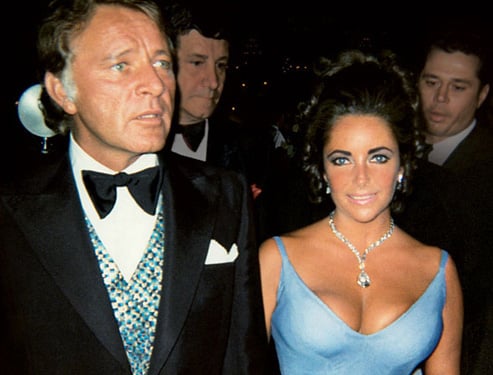 Richard Burton and Elizabeth Taylor wearing the 69.42-carat Taylor-Burton diamond necklace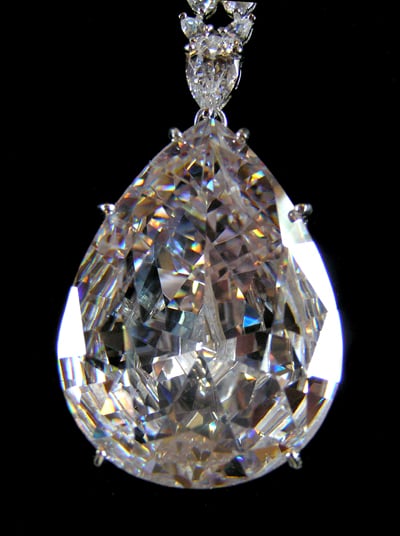 Jewelry Prop Shop replica of the Taylor-Burton diamond necklace created for Liz & Dick
La Pérégrina Pearl Necklace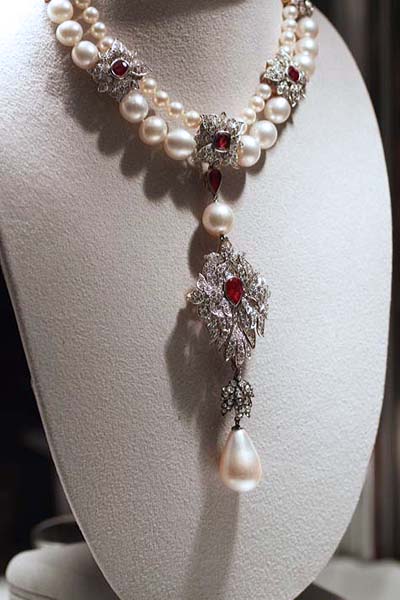 La Pérégrina Pearl Necklace by Cartier
Jewelry Prop Shop replica of La Pérégrina pearl necklace created for Liz & Dick
The Elizabeth Taylor Diamond (the Krupp)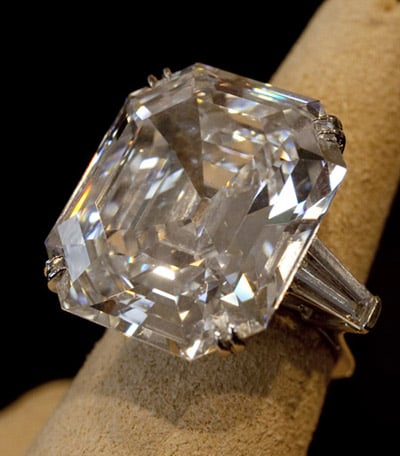 Formerly known as the Krupp diamond, the Elizabeth Taylor diamond weighs 33.19 carats. AP Photo/Richard Drew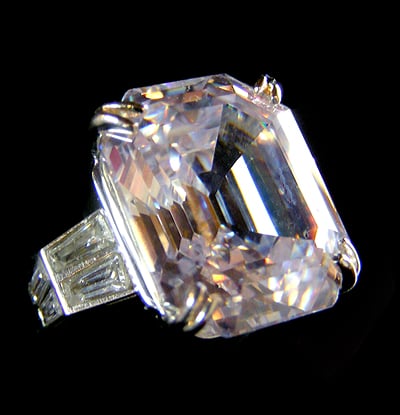 Jewelry Prop Shop replica of the Krupp diamond ring created for Liz & Dick
Jewelry Prop Shop images courtesy of Jennifer and Scott Janiak-Ross
Related Topics:

Elizabeth Taylor's Jewelry, A Pricescope Love Affair – Part One


Elizabeth Taylor's Jewelry Auction Achieves a Record $115.9 Million