We are approaching that delicious time of year when we leave our summer sundries behind for some serious sartorial splendor. Fall. It's here and contemporary jewelry designers have pulled out all the stops: Think bold and fabulous but with subtle detail in the mix. There are looks a-plenty for every taste. And don't worry, if designer jewels and color aren't your thing, classic diamond jewelry is always in season.
We asked Heidi Barnett, manager and assistant buyer for Single Stone on Mission Street, to share her top trends for Fall 2012. The boutique, located in San Marino, CA, is a sister company to engagement ring retailer Single Stone in downtown Los Angeles. SSMS is known as a style hub for Southern California, a ladies' lounge that carries a bevy of the most coveted jewelry designers, including Irene Neuwirth, Monique Péan, Heather Moore, and Jemma Wynne.
Heidi's trend picks for Fall 2012:
There are 3 trends that are going to be big for fall: organic shapes & materials, pops of color, and charm necklaces.
Organic shapes and materials have been huge this year and continue to be in many designers' fall collections. Organic materials such as horn and fossilized mammoth tusk are being featured with boulder opal and gem slices. These are truly unique pieces that are usually for the client with a more daring sense of style. (Monique Pean, Jemma Wynne)
Bright pops of color are trending not only in fashion, but in jewelry as well. Stones like chrysoprase, lapis, and turquoise are all being incorporated into gorgeous pieces of jewelry that can be worn season after season. (Irene Neuwirth)
Lastly, charm necklaces continue to be a big focus for us and I love this take on the classic charm bracelet to tell someone's personal story. The necklaces are usually worn long (like 24″ or more) and feature multiple charms that are meaningful to the client. (Heather Moore, Erica Molinari).
Organic Shapes & Materials – Monique Péan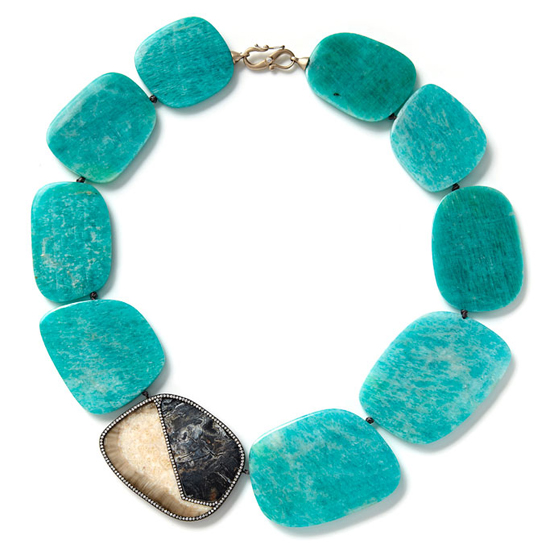 Amazonite, fossilized walrus ivory, diamond plate, and pavé diamond necklace in 18k recycled and oxidized white gold • SUT'ANA Collection • Monique Péan
Pops of Color – Irene Neuwirth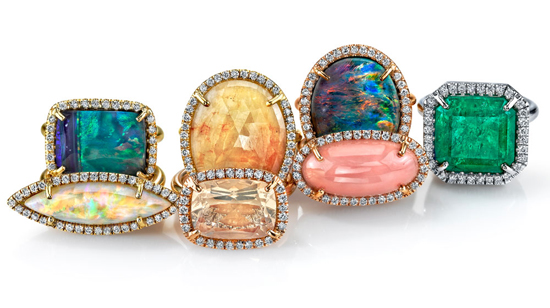 Colored gemstone and diamond rings • Irene Neuwirth
Charm Necklaces – Heather Moore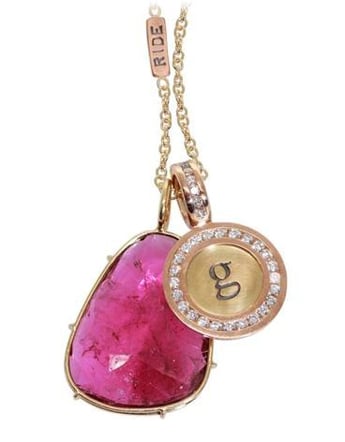 Tourmaline and initial diamond charm necklace • Heather Moore
Related Blog Topics:
Jewelry Week Preview – 9 Contemporary Designers at Couture 2012