By
Erika Winters
Today the American Gem Trade Association announced the winners of the 2015 Spectrum and Cutting Edge Awards, honoring jewelry designers and lapidary artists who work in natural colored gemstones and cultured pearls. The design competition, which was first launched in 1984, was held in New York City on October 25th and 26th.
The annual competition is judged by a panel of industry experts that changes each year. This year's judges included Jerrold Green of Reginald C. Miller, Myriam
Gumuchian of Gumuchian, Joseph Mardkha of ColorMasters, Tim McClelland of McTeigue & McClelland, Larry Pelzel of Neiman Marcus, and Dr. Jeffrey Post of the Smithsonian Institution.
"We were thrilled with the variety of entries at this year's AGTA Spectrum Awards™ competition," said AGTA CEO Douglas K. Hucker. "I did not envy the decisions that our judges had to make, yet I was pleased to see how carefully they deliberated over each and every decision they made, resulting in this year's amazing list of winners."
Check out the following highlights from the 2015 AGTA Spectrum Awards below, and visit the American Gem Trade Association's announcement to see the full list of winners from both the Spectrum and Cutting Edge Awards. You can also visit AGTA Spectrum on Facebook for more images and updates.
Best of Show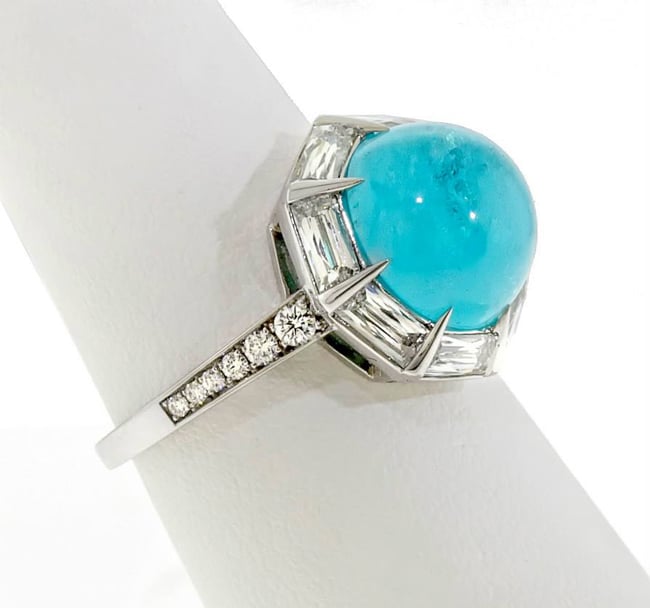 Leon Mege, Leon Mege, Inc. • Platinum ring featuring a 4.71-carat Paraiba tourmaline accented with French-cut diamonds (1.31 ct. tw.) (Winner: Best of Show and Classical – 1st Place)
Best Use of Color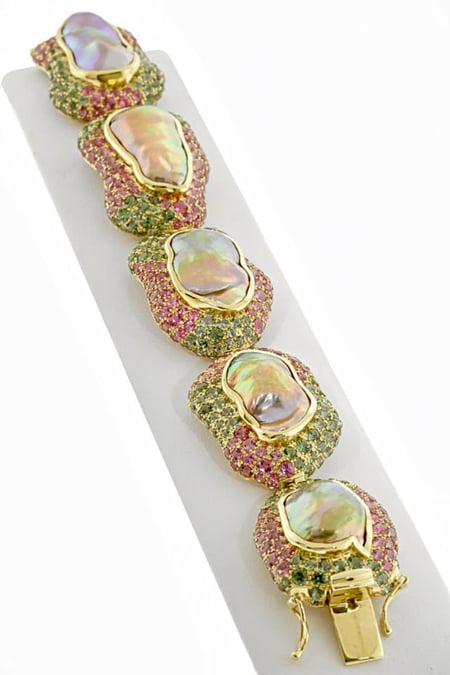 Paula Crevoshay • 18K yellow gold "The Venus Bracelet" featuring freshwater baroque cultured pearls (91.43 ct. tw.) accented with pink and green tourmalines (29.32 ct. tw.)
Best Use of Platinum and Color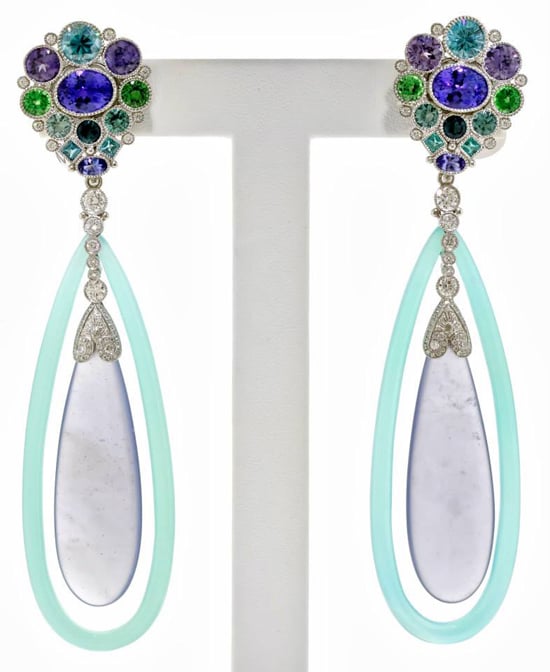 Deirdre Featherstone, Featherstone Design • Platinum "Anemone" earrings featuring tanzanites (5.37 ct. tw.) accented with blue zircons (2.88 ct. tw.), purple sapphires (3.72 ct. tw.), tsavorite garnets (1.67 ct. tw.), indigo tourmalines (.40 ct. tw.) Paraiba tourmalines (.26 ct. tw.) and diamonds (.16 ct. tw.)
Best Use of Pearls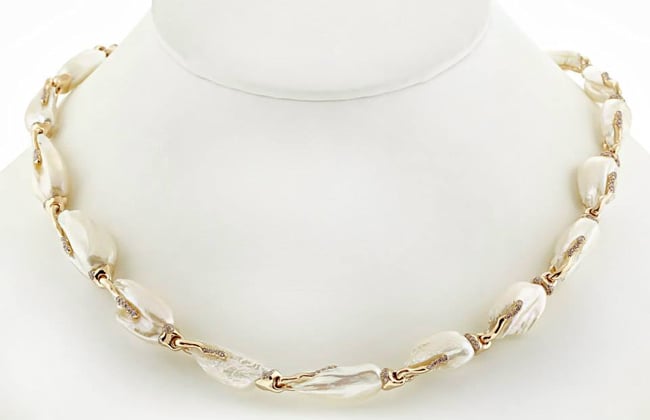 Naomi Sarna, Naomi Sarna Designs • 18K rose gold necklace featuring white cultured Pearls accented with pink diamonds
Fashion Forward
Ion Ionescu, Ionescu Design, Inc. • 18K yellow gold ring featuring a 36-carat turquoise accented with a 9.2mm Tahitian silver cultured pearl, Paraiba tourmalines (.32 ct. tw.) and diamonds (.43 ct.tw.)
Evening Wear – 1st Place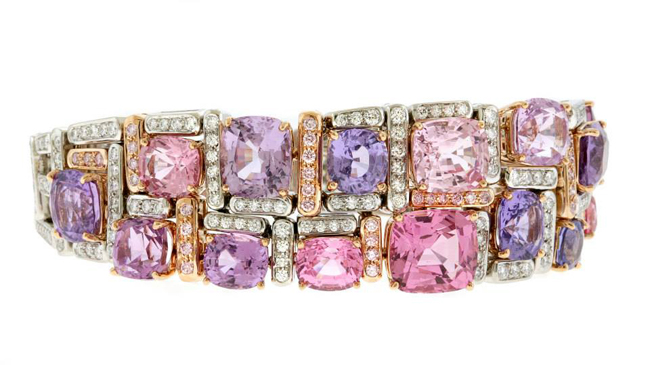 Maria Canale, Suna Bros. Inc. • Platinum and 20K pink gold bracelet featuring multi-colored natural spinels (44.31 ct. tw.) accented with white diamonds (6.80 ct. tw.) and pink diamonds (1.00 ct. tw.)
Business/Day Wear – 1st Place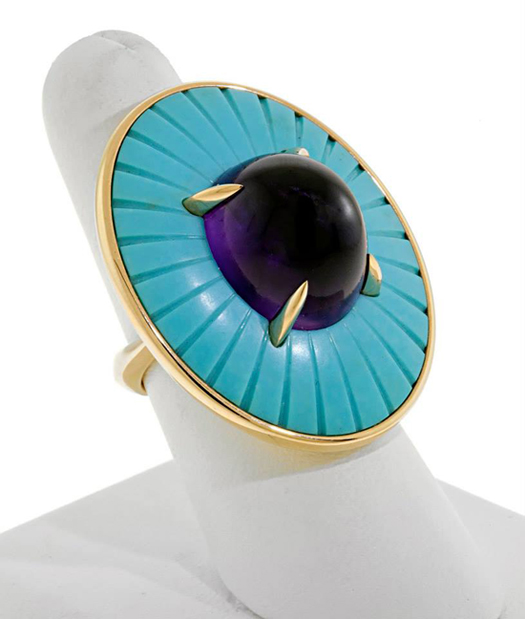 Jennifer Rabe Morin, Gregore Joailliers • 18K rose gold ring featuring carved turquoise (29.0 ct. tw.) accented with amethyst cabochons (14.0 ct. tw.)
Men's Wear – 1st Place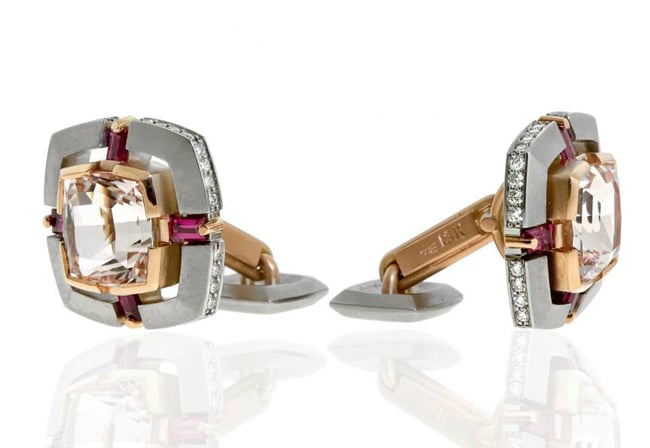 Dawn Muscio, D. Muscio Fine Jewelry Studio • 18K red gold and stainless steel "Pink2" cufflinks featuring pillow cut morganites (8.74 ct. tw.) accented with rubies (.87 ct. tw.) and diamonds (.60 ct. tw.)
Related blogs:
AGTA Announces 2014 Spectrum and Cutting Edge Award Winners

Centurion Design Awards Presented to 12 Jewelry Companies
Jewelers of America Announces National Retailer Design Competition Winners