By
Erika Winters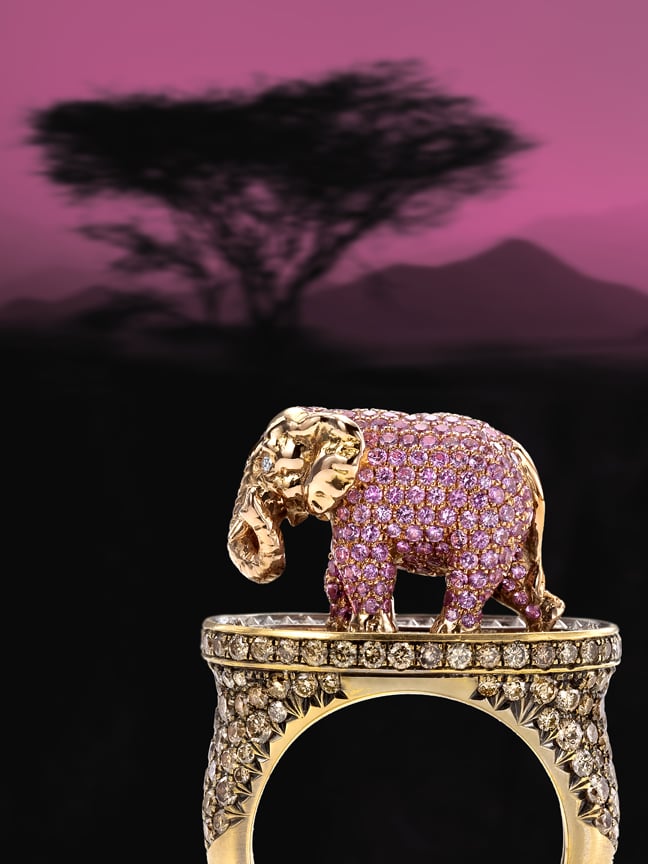 Jewelry designer Wendy Brandes received an honorable mention at the 2015 AGTA Spectrum Awards for her "Pink Elephant & Tipsy Writer Maneater" ring.
Every jewel has a story, a secret that belongs only to the wearer. But pieces that actually tell a story take the adorning arts to another level entirely. Welcome to Wendy Brandes' world of storytelling through jewelry. For those of us who love all things miniature, sparkling, and laden with rich symbolism, Wendy Brandes' "Maneater" collection is simply enthralling. The collection of one-of-a-kind creations–like many of Brandes' other lines–is inspired by powerful women. And her latest creation, the "Pink Elephant & Tipsy Writer Maneater" ring, just scored an honorable mention in the Evening Wear category at the AGTA Spectrum Awards.
In Maneater style, the pink elephant celebrates female strength with Brandes' lively humor and stunning artistry. The ring showcases a stunning elephant in rose gold and pink sapphires that stands with majesty on a pedestal complete with champagne diamonds. And the tipsy writer? He's underneath her pink majesty–and flanked by a bottle and a glass after a night of imbibing–and seeing pink elephants!
Brandes, a designer who is known for her many talents–she's also a prolific writer, social-media maven (follow her blog here), and former journalist–talks with us about what inspired her latest Maneater creation. We'll raise a glass tonight for this pink elephant!
Q&A with Wendy Brandes
EW: We love the rich symbolism of the designs in your "Maneater" collection. Tell us more about what inspired your "Pink Elephant & Tipsy Writer Maneater" ring–because we fell into a gorgeous stupor when we first saw it!
Wendy Brandes: I always envisioned the Maneater collection as becoming more fun and fantastical and colorful with each ring, so it was time for some pink! I also wanted a couple of the designs to directly reference things that were near and dear to me. After I represented my hometown with the yellow-diamond NYC Taxi and Passenger ring — the fifth in the series — it was time to pay humorous tribute to my first career, which was journalism. The writer Jack London may be best known now for the novel The Call of the Wild, but he worked as a war correspondent too. He was the first person to describe pink elephants as a hallucination typical of the very heavy drinker in his autobiographical novel, John Barleycorn. However, the fellow inside the ring was inspired by a picture of a tipsy-looking Cary Grant rather than Jack London!
EW: How long did it take you to create the piece—from the initial design to finishing?
Wendy Brandes: I began serious work on the initial design at the end of February and I completed the ring in mid-September. I had to wait a couple of weeks to get the custom-cut pink sapphires I ordered, so there was a little bit of downtime, though I kept busy setting the brown diamonds in the shank. Sourcing the 1 mm to 1.2 mm gems I need for the Maneater designs is often a bit of an adventure.
EW: Do elephants hold special meaning for you?
Wendy Brandes: Elephants personify my Maneater theme of female power because they live in matriarchal societies. The oldest and biggest female presides over a herd of related females and their young offspring. The females stay bonded for life, while grown males are sent off to live on their own. I also spent quality time with elephants when I went on safari in South Africa last year. They were awe-inspiring to see close up and in the wild. I looked through a lot of my elephant photos from that trip when planning the ring.
EW: We were excited to see the pink elephant win an honorable mention in the Evening Wear category at this year's AGTA Spectrum Awards. Is this your first time entering the competition?
Wendy Brandes: Actually, it's a case of "the third time's the charm." I first entered my amethyst-and-tsavorite Marie Antoinette earrings, then my turquoise-and-ruby skull ring. I'm thrilled that the judges enjoyed my pink pachyderm.
EW: What's the next "Maneater" ring on the horizon? Can you share a hint?
Wendy Brandes:
This week, I finished the first wax model of my Dragon and Knight Maneater ring. It's fierce! Expect lots of tsavorites and touches of platinum.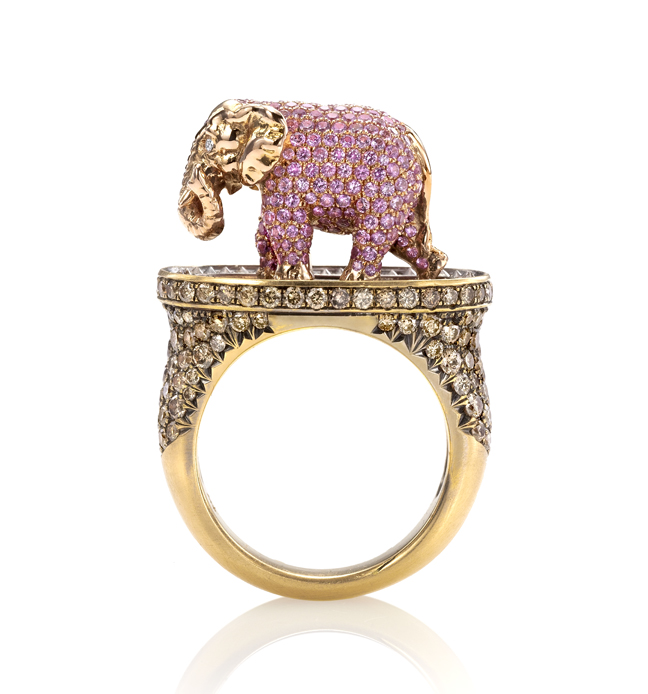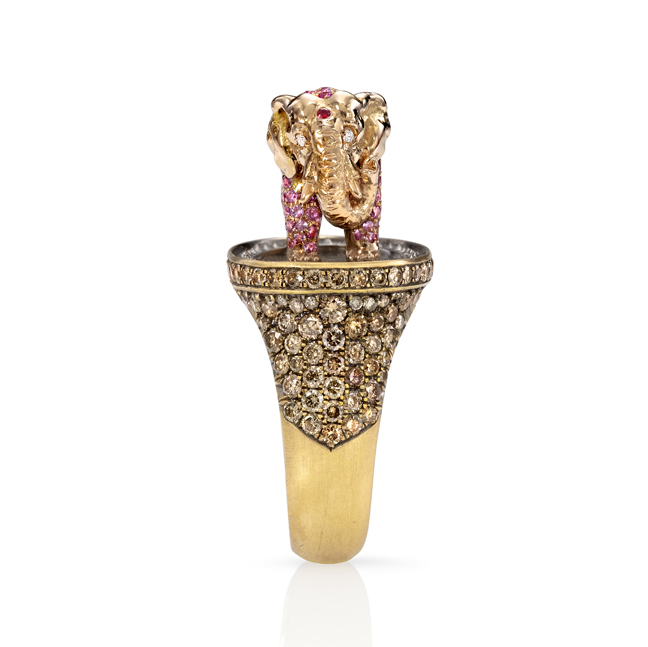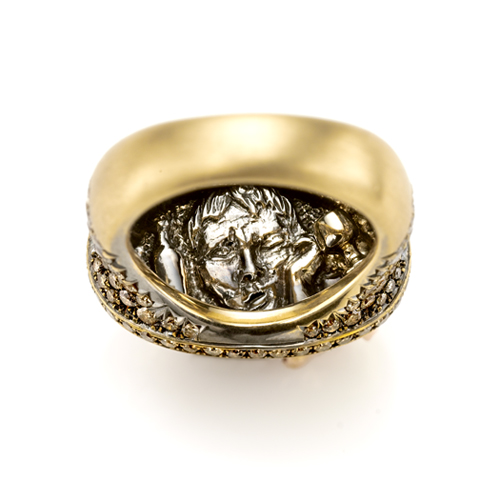 2015 AGTA Spectrum Awards Honorable Mention in the Evening Wear category: Wendy Brandes Jewelry – 18K pink gold "Pink Elephant & Tipsy Writer Maneater" ring featuring a pink sapphire elephant (2.0 ct. tw.) accented with a ruby and brown and white diamonds (2.23 ct. tw.)
Images courtesy of Wendy Brandes Jewelry.
More on Wendy Brandes:
Wendy Brandes Amethyst Marie Antoinette Earrings for February

On Trend: Earrings for the 4th of July – Singles, Mismatched, Cuffs & Climbers

Adornmentality.com Dishes Up the People Behind Jewelry Market Week