PS Welcome - YouTube
All about PriceScope
Fri, 15 Feb 2013
Wendy Brandes Amethyst Marie Antoinette Earrings for February
H1:
Wendy Brandes Amethyst Marie Antoinette Earrings for February
By
Erika Winters
Need a stunning dose of royal purple this February? Wendy Brandes' Marie Antoinette earrings deliver with the pomp and complexity of one of the most fashionable and ill-fated monarchs in history. Ample custom-cut amethysts--each over 25 carats--wrapped in vines of pavé-set tsavorite garnets evoke the French monarchy's grip on the young queen. (If you haven't already, do read Marie Antoinette: The Journey by Antonia Fraser, for unique perspective on this often misunderstood royal.)

The Marie Antoinette earrings were created last year for the 219th anniversary of the queen's execution by guillotine on October 16, 1793. One-of-a-kind, the earrings were handmade in New York City. Although they can be recreated, each pair will remain a distinctive expression of regal style.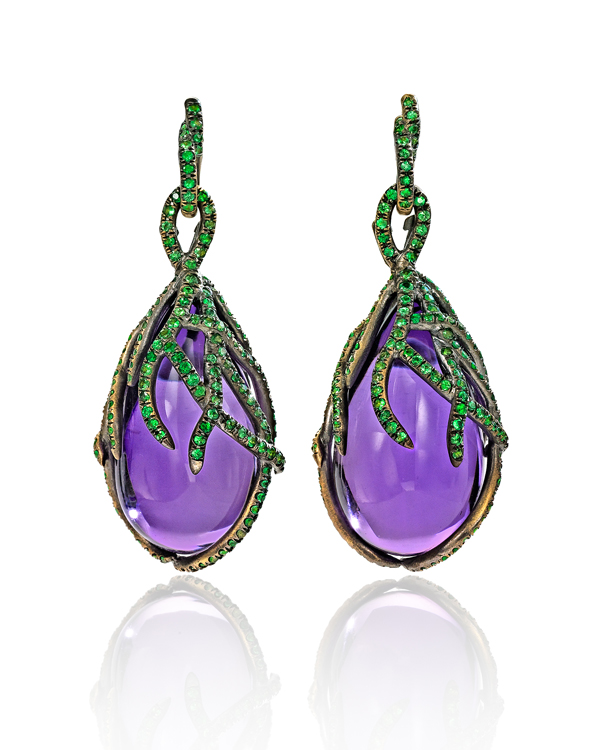 Image courtesy of Wendy Brandes
Visit Wendy's blog to learn more about the making of the Marie Antoinette earrings.