By
Erika Winters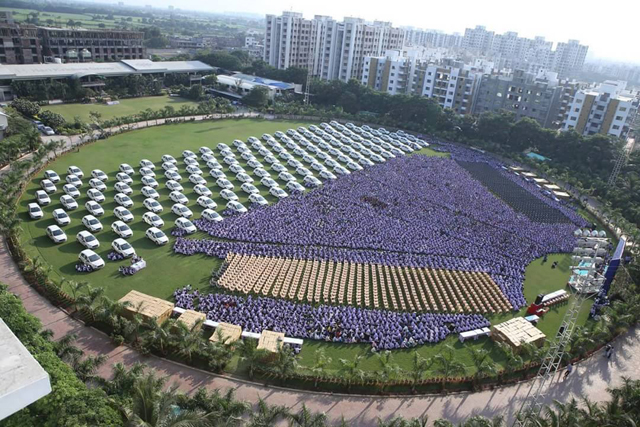 Hari Krishna Exports rewards employees at its annual meeting. Visit Hari Krishna Exports on Facebook for more images.
While workers around the world might be wondering about their upcoming holiday bonuses, a Surat-based diamond and jewelry manufacturing company has pulled out all of the stops with an ultimate bonus extravaganza complete with a social message. Hari Krishna Exports has given 1,201 employees cars, housing, vacations, and diamond jewelry to celebrate Diwali, the Hindu festival of lights. The unprecedented "loyalty program" honors employees with outstanding performance, including 100 percent work attendance.
In Surat the gifts included 424 Fiat Punto cars, 207 apartments, and 570 Slva Collection-Kisna diamond jewelry pieces. And the bonuses were doled out according to need: the cars and apartments were given to workers who didn't already own them, while the jewelry was given to those who already owned both cars and apartments.
Mumbai-based employees were given vacations with their families and Slva Collection-Kisna diamond jewelry.
In a Washington Post interview, company chairman Savji Dholakia expressed the social message behind the bonuses. "What I do is social business," said Dholakia. "I am not a socialist, I am a businessman. But I don't spend money on charity for strangers. I do social work for the people who toil for my company. I share the profit with the people who created the profit."
The bonuses come after the company garnered over $1 billion in diamond exports this year.
"All our dreams have come true only through our workers. A target was set for all the employees and they have achieved it. This is a big day for the entire Hari Krishna family. Today all these employees of the company have strengthened the fundamental moral of the company and of the diamond industry proving to the world that they are capable of fulfilling their dreams. The company's growth lies in the employee's dedication toward their work by giving it their heart and soul, 100 percent, and to further motivate and encourage them, the company rewarded them," said Dholakia.