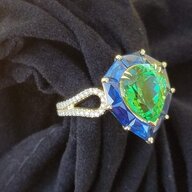 Joined

Jan 18, 2007
Messages

962
This was so so hard but here is my top 5 in no particular order!

1. Bespoke Gems sapphire - I went to see Doug about an oval and walked out with this. I'm funny about blues and this was an intriguing blue that won me over.

2. JD tourmaline - I've wanted an asccher in like forever. Green asccher in rose gold is all my dreams come true! The cut is mesmerising.

3. Yellow diamond ring by DBL - my ring of a lifetime. This was an indulgent purchase and I love it. Total movie star ring!

4. JD Chrysoberyl - saw this stone and sent JD a bunch of incoherent messages about it praying it hadn't sold already. The very affordable totally fancy setting was such a bonus.

5. Ruby heart - I loooooove heart shaped stones and just had to have this. I wouldn't have been happy with a ruby in any other shape. It's so cute and makes me smile.
I'll try this again. I messed up my first response.
@mellowyellowgirl
...
That's it!! The yellow diamond ring is totally YOU! I love it! I've read so many of your fun posts and enjoyed them and this bright, shiny, over the top ring screams "mellowyellowgirl"!! What a fancy ring.